Life Verses
 "But seek first the kingdom of God and His righteousness,and all these things shall be added to you." - (Matthew 6:33)
People frequently ask if I have a 'life verse.' They want to know the one verse that has guided me through my entire experience of life. I actually have three life verses. The first is Matthew 6:33. This verse started guiding my wife and me through our experience of marriage and ministry that both began in 1956.
When it was time for me to preach my first sermon in the storefront church we were just starting, my wife was critically ill after the birth of our first child. I wasn't going to go and preach to about 20 adults because the doctors could not assure me she was out of danger. However, because she insisted I did go.
Our church sight was about 20 miles from the hospital. During the drive the evil one really beat up on me because I had promised the people I would be their pastor for $50.00 a week – if it came in - and we were running up an enormous hospital bill with no health insurance.
I had instructed our founding elder to show me a slip of paper with the amount of the offering written on it. When he did the amount was $1,497. 27. As I saw those numbers I had a private worship service and promised God that I would never doubt His ability to provide for me and my family! Looking back, I've never been disappointed in God's provisions of grace.
As our decades of ministry rolled out this verse has taken on many deeper and more profound applications that have guided us. Are you willing to let Matthew 6:33 guide you through your life?

---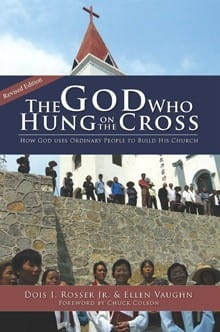 Free Book: The God Who Hung on the Cross
This newly revised paperback edition features reflections on 25 years in ministry by Dois Rosser. The book details the history and vision of ICM, the parent organization for the Mini Bible College, and the vehicle for distributing MBC to congregations around the world. Dois' story is an inspiration, encouraging Christians to give of their time and resources to experience the abundant power of God at work. Journey around the world with Dois and discover that you too can be a part of something bigger than yourself!