A Kingdom Benediction
"Yours is the Kingdom, the Power and the glory forever, Amen." - (Matthew 6:13)
Jesus taught us to begin our prayers with a providential or God-first perspective. He also taught us to end our prayers with the same kind of Kingdom benediction. In this prayer/prescription after we get our priorities straight we are to close our prayers in a way that is consistent with the way we begin our prayers.
In essence, we are to end our prayers by telling God that since the power to answer our prayers will always come from Him the glory will always go to Him and the result will always belong to Him. That is what "Your's is the Kingdom" is really all about.
When you pray are you taking God into your plans or are you asking Him to take you into His plans? I have had the privilege of being involved in the founding of two churches. After many years serving those churches I then had to drop out and let others pastor them. That was when I learned what it means to pray: "Your's is the Kingdom."
Jesus taught me to pray that since the power to answer my prayers over many years as the pastor of those churches had come from Him the glory should now go to Him and the result (the churches) should belong to Him.
James tells us we ask and do not receive because we ask amiss (James 4:3). A teenager asked me if James was telling us we can pray a hit as well as a miss. If you want to pray a hit every time allow Jesus to show you how to begin and end your prayers.

---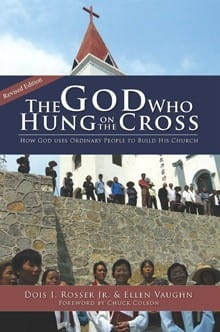 Free Book: The God Who Hung on the Cross
This newly revised paperback edition features reflections on 25 years in ministry by Dois Rosser. The book details the history and vision of ICM, the parent organization for the Mini Bible College, and the vehicle for distributing MBC to congregations around the world. Dois' story is an inspiration, encouraging Christians to give of their time and resources to experience the abundant power of God at work. Journey around the world with Dois and discover that you too can be a part of something bigger than yourself!