Let Go and Let God
"… but one thing I do, forgetting those things which are behind and reaching forward to those things which are ahead, I press toward the goal for the prize of the upward call of God in Christ Jesus. " - (Philippians 3: 13, 14)
As we move into a new year so many of us could say, "These forty/eleven things I dabble in" as we consider our priorities. Spiritual heavyweights like Paul can write "One thing I do." They can write that they have their priorities sifted down to one thing because they forget those things that are behind.
We all have things we need to let go of so we can press toward the goal of what God wants us to do now and in the future.
The story is told of a man who fell over a cliff but managed to grab hold of a little bush that was growing out of the cliff about forty feet from the top. He frantically shouted "Help!" several times but his voice simply echoed back to him. Desperately he yelled, "Anybody up there? A subterranean voice answered, "Yes!" He then yelled again "Help!" Then the voice said. "Let go!" After a brief pause the man shouted, "Anybody else up there?"
Sometimes it takes a lot of faith to let go. It may be that we need to let go of things that we cannot do and only God can do. It may be we need to let go of things we cannot control. And, sometimes we need to let go of hurts that people have inflicted on us and we cannot forgive them and just let it go.
Do you need to let go and let God so you can unload baggage and move forward with God?

---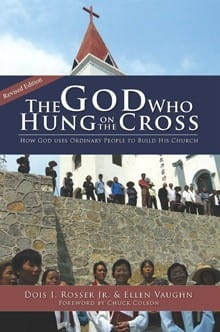 Free Book: The God Who Hung on the Cross
This newly revised paperback edition features reflections on 25 years in ministry by Dois Rosser. The book details the history and vision of ICM, the parent organization for the Mini Bible College, and the vehicle for distributing MBC to congregations around the world. Dois' story is an inspiration, encouraging Christians to give of their time and resources to experience the abundant power of God at work. Journey around the world with Dois and discover that you too can be a part of something bigger than yourself!