Always at His Feet
"… but few things are needed—or indeed only one. Mary has chosen what is better…" - (Luke 10: 42)
Every time we meet Mary, the sister of Martha, she is at the feet of Jesus. The verse above describes her at the feet of Jesus hearing His Word. Martha is frustrated because Mary is attending the Bible study while she herself is doing all the serving. Jesus sides with Mary because she has chosen the number one priority that day.
In the eleventh chapter of the Gospel of John the brother of these two sisters has died. When the Lord arrives too late to save their brother both these sisters greet Him with the same words: "Lord, if you had been here my brother would not have died." However, when Mary spoke those words we read that she prostrated herself at his feet showing that she accepted His will.
In the next chapter of the Gospel of John a banquet is described at which their resurrected brother is the guest of honor. Mary was there worshiping Jesus at His feet. She anointed His feet with perfume that was worth a year's wages. What would it mean if you worshiped Jesus with your annual income?
This Mary is a great example for all of us as she is at His feet hearing His Word, accepting His will, and worshiping Him. If we will not merely read our Bible but hear His personal word to us at His feet when we do, we will find His will for our lives. If we continue to follow Mary's example we will be at His feet accepting His will.
And those who follow the example of Mary will find themselves worshiping Him forever with costly worship at His feet.

---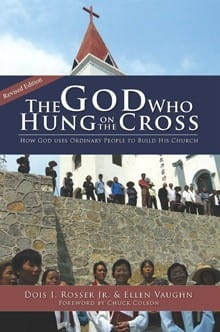 Free Book: The God Who Hung on the Cross
This newly revised paperback edition features reflections on 25 years in ministry by Dois Rosser. The book details the history and vision of ICM, the parent organization for the Mini Bible College, and the vehicle for distributing MBC to congregations around the world. Dois' story is an inspiration, encouraging Christians to give of their time and resources to experience the abundant power of God at work. Journey around the world with Dois and discover that you too can be a part of something bigger than yourself!