A Call to Community
"Though one may be overpowered by another, two can withstand him…a threefold cord is not quickly broken." - (Ecclesiastes 4:12)
The wisest man who ever lived wrote that we were not meant to fight our battles alone. We need community. Jesus told us that He is where two or three of us get together in His name (Matthew 18:20). When Jesus said that, He was not consoling us for poor attendance at a prayer meeting. He was giving us a prescription for an intentional dynamic we call a small group.
For nearly the first 300 years of Church history it was illegal to be a Christian. That forced the Church to meet in small house churches. Today we have many large churches. The only way to have meaningful interaction with other believers when you are part of a mega church is to meet in small groups. Here at the close of the Church age all over the world the Church is again meeting in small house churches
Perhaps this is what Solomon meant when he wrote that a threefold cord is not quickly broken. Not only is a cord or a cable of three strands very strong; when cord number one is you, cord number two is another believer, and cord number three is our God – you have the cord that is not quickly broken.
The Old Testament calls this "Hesed." The New Testament calls this concept of community "fellowship" or "koinonia." When you are part of that threefold cord you are "wrapped in a bundle of life with the Lord your God." - (I Samuel 25:29 Berkeley)
Have you personally discovered one of the greatest dynamics in the Bible? Or do you believe you don't need anybody because you can handle anything that comes your way and you can handle it alone?

---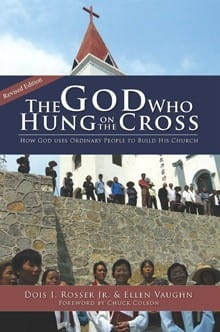 Free Book: The God Who Hung on the Cross
This newly revised paperback edition features reflections on 25 years in ministry by Dois Rosser. The book details the history and vision of ICM, the parent organization for the Mini Bible College, and the vehicle for distributing MBC to congregations around the world. Dois' story is an inspiration, encouraging Christians to give of their time and resources to experience the abundant power of God at work. Journey around the world with Dois and discover that you too can be a part of something bigger than yourself!