Christmas Lights
"You are the light of the world. A city that is set on a hill cannot be hidden. Nor do they light a lamp and put it under a basket, but on a candlestick, and it gives light to all who are in the house. Let your light so shine before men, that they may see your good works and glorify your Father in heaven." - (Matthew 5:14-16)
I love Christmas lights! Where I live in Williamsburg, Virginia, one of the signature features of Christmas decorating is using white lights. We put our Christmas tree up for all of December because we enjoy the white lights so very much.
A very significant Christmas gift I received is a book I wrote this year that was delivered from the printer on the third of December. It is calledMarketplace Disciples. The thrust of this book's message highlights the mandate Jesus gave His disciples to be the light of the world and the salt of the earth. A missionary statesman said that if the disciples of Jesus stick together with a fortress mentality, we are like manure. We stink! But if we get spread around we do a lot of good.
The risen living Christ uses the fact that we need to make a living to get the salt out of the salt shaker and the candles He has lighted on candlesticks of His choosing. We should impact the marketplace because we are authentic disciples of Jesus Christ. The values of Christ should revolutionize our ethics and the way we do business. That is why today most evangelism takes place in the marketplace.
When you see the beautiful Christmas lights this year remember that Jesus said His light flowing through us cannot be hidden.

---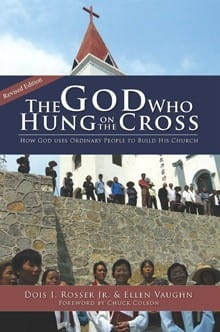 Free Book: The God Who Hung on the Cross
This newly revised paperback edition features reflections on 25 years in ministry by Dois Rosser. The book details the history and vision of ICM, the parent organization for the Mini Bible College, and the vehicle for distributing MBC to congregations around the world. Dois' story is an inspiration, encouraging Christians to give of their time and resources to experience the abundant power of God at work. Journey around the world with Dois and discover that you too can be a part of something bigger than yourself!