A Prescription for Climbing
"Since, then, you have been raised with Christ, set your hearts on things above, where Christ is…" - (Colossians 3:1)
To follow up on the application of the second point of the jet pilot's compass to our own compass of life we must ask: what does it mean to "climb?" Since we are all different it means different things for different folks. For me personally it means to get deeply into the Word of God. A holy man named Thomas a' Kempis wrote in words of his century that he found spiritual retreat and peace in 'a little corner with a little book.'
For you climbing could mean meeting with a mentor if you are blessed to have one. Ideally every believer should have one but realistically very few actually have a mentor or a disciple maker. If you are a spiritual person a short or long private retreat could be a good way to climb. While solitude works for some, a small group could work for others. Simply being with spiritual people is moving in the right direction.
If you love worship music, getting immersed in meaningful worship music is a good way to climb. This of course could happen in corporate as well as a closet worship experience.
Many people climb by reading the great old souls who have left us with their great expressions and "how to's" of worship by example and precept. Getting deep into devotional classics is a good way to climb. I must repeat, however, that for me nothing replaces the Word of God for climbing.
The first letter of John tells us to track with the attributes of God. According to John if we look where the love is, where the life is, and where the light is we will find ourselves climbing big time.

---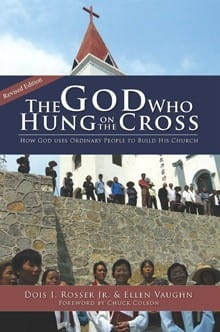 Free Book: The God Who Hung on the Cross
This newly revised paperback edition features reflections on 25 years in ministry by Dois Rosser. The book details the history and vision of ICM, the parent organization for the Mini Bible College, and the vehicle for distributing MBC to congregations around the world. Dois' story is an inspiration, encouraging Christians to give of their time and resources to experience the abundant power of God at work. Journey around the world with Dois and discover that you too can be a part of something bigger than yourself!