Another Prescription for Forgiveness
"All we like sheep have gone astray; we have turned, every one, to his own way; and the LORD has laid on Him the iniquity of us all." - (Isaiah 53:6)
A police officer on a motorcycle noticed a large enclosed truck driven down Sixth Street in Los Angeles, California. The driver stopped every few blocks, got out, and beat all around the sides of the truck with a large baseball bat. After observing this for some time, the officer flashed his lights and ordered the driver to pull over. The policeman said to the driver, "Mister, as far as I can tell, you're not breaking the law. But I just gotta' know, what are you doing?"
The truck driver explained, "Officer, this truck here has a capacity of five thousand pounds. But, you see, I've got six thousand pounds of canaries. So, I gotta' keep a thousand pounds of canaries up in the air all the time!"
Perhaps you are up in the air about what you must believe to know that your sins are forgiven. Isaiah told us in the verse above that if we confess that we are included in the first and last all of his verse then our sins are forgiven.
As a seminar for baseball umpires concluded, an old veteran umpire said, "The way I see it, some are balls and some are strikes, but they ain't nothin 'til we call 'em!"
I have just thrown you a strike. I have shown you how to know your sins are forgiven. But like the old umpire said, what I have shown you isn't anything until you call it something.
What do you call this Good News from Isaiah?

---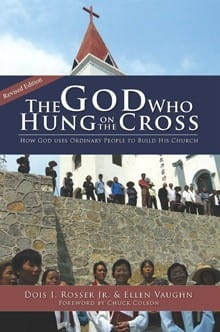 Free Book: The God Who Hung on the Cross
This newly revised paperback edition features reflections on 25 years in ministry by Dois Rosser. The book details the history and vision of ICM, the parent organization for the Mini Bible College, and the vehicle for distributing MBC to congregations around the world. Dois' story is an inspiration, encouraging Christians to give of their time and resources to experience the abundant power of God at work. Journey around the world with Dois and discover that you too can be a part of something bigger than yourself!