How To Live Beyond Yourself
March 2, 2016
… Not by might, nor by power, but by my Spirit, says the LORD of hosts.
Zechariah 4:6
I once heard a pastor give a sermon where he said, "In the Old Testament, God the Father was rejected. In the New Testament, God the Son was rejected. And today, God the Holy Spirit has been rejected." What a stunning, yet very valid indictment on the church today. So many, for whatever reason, have discounted and forgotten the work of the Holy Spirit in their lives.
Perhaps one reason for this is ignorance. Many people come to know the Lord, are told about the Father and the Son, but are never given guidance on the person of the Spirit. Someone told them to pray a prayer, walk an aisle, get baptized, come to church, and do the best they could. But no one ever taught them what it means to walk by the Spirit!
But the Christian life really comes in stages. We begin by hearing things like "Read your Bible," "Pray," and "Go to church." These are things we can do. But then we must move to things like "Love your enemy," "Fight for your marriage," and "Die to yourself." These are completely works of the Spirit of God in our lives.
As believers, we have to reach a point where we no longer rely upon our strength, fully trust in God's power, and believer He is able to work in and through us to do things that are supernatural. Live life by the Spirit by surrendering control and living under the power of God. That's how you'll live beyond yourself!
LIVE BEYOND YOURSELF BY TRUSTING IN GOD'S SPIRIT, NOT YOUR OWN STRENGTH!
---

For more from PowerPoint Ministries and Dr. Jack Graham, please visit www.jackgraham.org
and
Listen to Dr. Jack Graham's daily broadcast on OnePlace.com.
Watch Jack Graham and Powerpoint Ministries Video Online.

Experience the joy of leading others to Christ!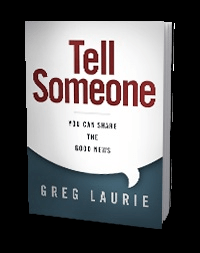 When it comes to sharing the Gospel, many
Christians
today are either afraid, feel unprepared, or are overwhelmed by the number of ways to do it. That's why we want to send you a copy of Greg Laurie's book,
Tell Someone
. It will help you experience the simple joy of sharing Christ!
Thank you!
Jack Graham
PowerPoint Ministries