NAME OF GOD: Elohim Chayim
Verse: This is how you will know that the living God (Elohim Chayim) is among you and that he will certainly drive out before you the Canaanites, Hittites, Hivites, Perizzites, Girgashites, Amorites and Jebusites. Joshua 3:10
Meaning: The Living God.
Prayer: Thanksgiving
Elohim Chayim thank you for being active and engaged in my everyday life. You are not a God who sits far off removed and distant having no say in what happens to me. Just as you drove out the Canaanites, Hittites, Hivites, Perizzites, Girgashites, Amorites and Jebusites from before the Israelites – you are alive and moving in the situations of my life as well. Thank you for your interest, care, concern and loving participation in me, through me and around me.
Watch Online Videos of Dr. Tony Evans and The Urban Alternative at LightSource.com
and
Listen to Dr. Tony Evans Online Broadcasts at OnePlace.com.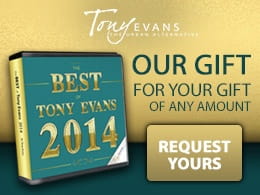 The Best of Tony Evans 2014
The Best of Tony Evans 2014 is a collection of some of Dr. Evans most powerful messages of the year.
Request your copy
of
The Best of Tony Evans 2014
CD Series for your gift of any amount.