That's Life
by Berni Dymet
Job 30:26  But when I looked for good, evil came; and when I waited for light, darkness came.
I can't begin to tell you the number of times in my life when I've been expecting something really good from God - and what happens is that things just take a turn for the worse.
It's like - well if God is good, doesn't He want good things to happen to me? Doesn't He want to bless me? And so you ask Him to help with something. "God I'm really struggling with this and I don't know how to handle it and it's too big" - and you think to yourself - "Well, surely now, God is going to do something really good to bless me." Sometimes of course He does.
Other times though, things take a nosedive. And you know - that's often the way it goes. That's life. So often, when God is up to something good in my life - and in yours too - He starts doing things in people and situations. Digging around, changing things - and that upsets everything - and things all of a sudden get worse for a while before God's amazing plan finally unfolds.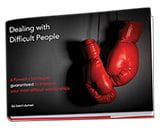 Get a Free eBook from Berni Dymet, Dealing with Difficult People. This timely and relevant eBook contains 6 powerful principles guaranteed to improve your most difficult relationships. And you can download it FREE, right now.