Like a Child
by Berni Dymet
Matthew 18:3 Truly I tell you, unless you change and become like children, you will never enter the kingdom of heaven.
When I was a little boy, my mother used to make me soft boiled eggs. My favourite. But I always wanted a second one. So when I'd finished the first one, she "magicked" another egg out of thin air. It always blew me away. How did she do that?
Well I just turned 50, and I've finally figured it out. She used to hide the second one in her apron!  And I so believed that she was able to magic a soft boiled egg out of thin air. But there's something wonderful about believing like a child. The innocence opens up a whole new world.
So when Jesus said to His disciples that God had hidden Himself from the wise and prudent, but revealed Himself to the little children - my hunch is He knew what He was talking about.  
See, the difference is, with Jesus it's not a slight of hand. It's not a con job. This God, this Jesus is real. Very real. And when we believe in Him with the guileless candour of childhood…wow!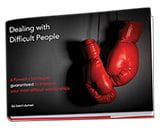 Get a Free eBook from Berni Dymet, Dealing with Difficult People. This timely and relevant eBook contains 6 powerful principles guaranteed to improve your most difficult relationships. And you can download it FREE, right now.