October 26
He stores up sound wisdom for the upright …
Proverbs 2:7
God moved Joseph to build storehouses for the surplus of Egyptian grain, and when the famine came, the food was available. Our world is data-rich, but there's a famine of wisdom. Every truth comes from God, but His covenant people are given more than data. He releases to and through them the wisdom to apply the information for good. There were many in Egypt who knew how to build silos, but Joseph had the wisdom to know why and when to construct the granaries.
Click here to sign up for your free Winning Walk newsletter!
---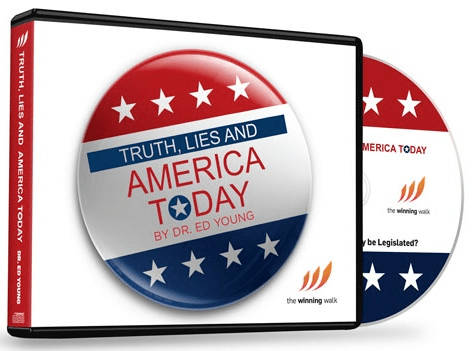 We've been told lies as a society, and many of us – even believers – have come to accept them as truth.
 
Dr. Ed Young exposes many of these lies in his 3-message CD series 'Truth, Lies, and America Today.'

You'll hear about steps you can take to:
       •Reestablish God's truth in your home and community
       •Rebuild our nation's moral foundation
       •Restore hope for future generations  

'Truth, Lies, and America Today' is our gift to thank you for your first monthly gift as a Winning Walk Pacesetter.
 
The faithful support of Pacesetters is crucial for helping proclaim proven truth on radio, television, and the internet – so please prayerfully consider becoming a Pacesetter today.
 
When you do, we'll send you 'Truth, Lies, and America Today' to help stand against the lies of our culture with the proven truth of God's Word.
 
We're so grateful for your partnership!