October 15
Now on the last day, the great day of the feast, Jesus stood and cried out, saying, "If anyone is thirsty, let him come to Me and drink.  He who believes in Me, as the Scripture said, 'From his innermost being will flow rivers of living water.'"  - >John 7:37-38
God promises overflow living. Some people function with their cups half full. Others get zest and energy for life almost to the brim. But God's indwelling life is different. The vessel of a human life cannot contain it all, and to be full of Him is to lavish the bounty on others. Whatever fills your bucket is what will slosh out on others. Drink deeply from His Spirit, and you will refresh everyone you touch.
Click here to sign up for your free Winning Walk newsletter!
---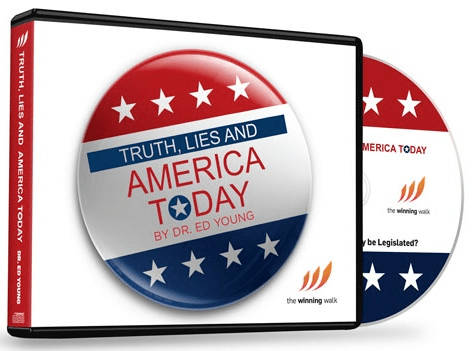 We've been told lies as a society, and many of us – even believers – have come to accept them as truth.
 
Dr. Ed Young exposes many of these lies in his 3-message CD series 'Truth, Lies, and America Today.'

You'll hear about steps you can take to:
       •Reestablish God's truth in your home and community
       •Rebuild our nation's moral foundation
       •Restore hope for future generations  

'Truth, Lies, and America Today' is our gift to thank you for your first monthly gift as a Winning Walk Pacesetter.
 
The faithful support of Pacesetters is crucial for helping proclaim proven truth on radio, television, and the internet – so please prayerfully consider becoming a Pacesetter today.
 
When you do, we'll send you 'Truth, Lies, and America Today' to help stand against the lies of our culture with the proven truth of God's Word.
 
We're so grateful for your partnership!