November 27
Now may the God of peace Himself sanctify you entirely; and may your spirit and soul and body be preserved complete, without blame at the coming of our Lord Jesus Christ. Faithful is He who calls you, and He also will bring it to pass. - >1 Thessalonians 5:23-24
The human spirit enables God-consciousness, the soul self-consciousness, and the body world-consciousness. However, God's design is for us to function as whole beings, not fragmented. Sin shatters the wholeness. Paul's lament in Romans 7 and Galatians 4 is the warfare this fragmentation produces between the "flesh" and the "spirit."  Christ's salvation restores wholeness to the human being. He does the work, and brings it to fruition. Through Christ, we are brought back to God's perfect design.
Click here to sign up for your free Winning Walk newsletter!
---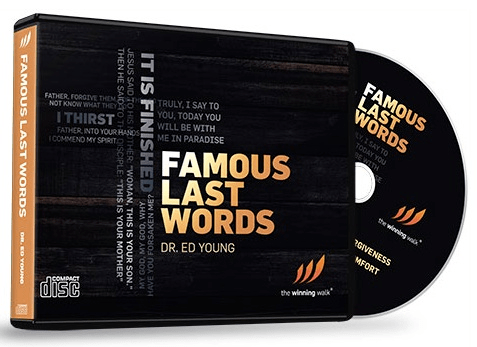 What people say in their final moments matters. And when those final words come from the most famous man in history, they hold deep meaning for every one of us.
Dr. Ed Young's 4-message series, 
Famous Last Words
, takes you to the foot of the cross where you'll find Christ's final words of encouragement and inspiration will guide you through your own dark times and provide timeless truth to hold onto for a brighter future.
Receive your copy of 
Famous Last Words
 when you donate below. Thank you for your support of The Winning Walk!