November 24
"He who offers a sacrifice of thanksgiving honors Me; And to him who orders his way aright I shall show the salvation of God." - Psalm 50:23
Seeing the salvation of God isn't watching a cheap sideshow. Sign-seekers in Jesus' day wanted to see strange sights and be entertained with miracles. Seeing the salvation of God means observing the outcomes of commitment to Him. A missionary heard of an African sorcerer who could turn men into elephants, and the missionary was intimidated. "I can't do that," he fretted. Then the missionary realized that it's nothing to reduce a human being to a lower order in a fallen world. The real miracle is a sinful person made Christ-like. That's seeing the salvation of God.
Click here to sign up for your free Winning Walk newsletter!
---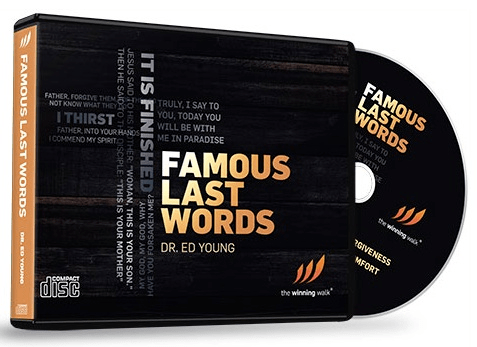 What people say in their final moments matters. And when those final words come from the most famous man in history, they hold deep meaning for every one of us.
Dr. Ed Young's 4-message series, 
Famous Last Words
, takes you to the foot of the cross where you'll find Christ's final words of encouragement and inspiration will guide you through your own dark times and provide timeless truth to hold onto for a brighter future.
Receive your copy of 
Famous Last Words
 when you donate below. Thank you for your support of The Winning Walk!