November 20
For momentary, light affliction is producing for us an eternal weight of glory far beyond all comparison, - >2 Corinthians 4:17
Grapes or olives were placed in a round stone trough, and a massive rock crushed out the rich oil. The heavy stone was, in Greek, thlipsis, the word translated "tribulation." God's covenant people cannot lose—even in tribulation. Its crushing weight becomes the means by which Christ's followers flow with the best. Grapes became refreshing wine and oil provided light. God's people under pressure provide encouragement and illumination to all around them.   
Click here to sign up for your free Winning Walk newsletter!
---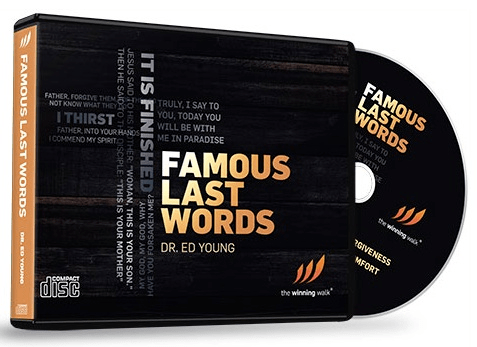 What people say in their final moments matters. And when those final words come from the most famous man in history, they hold deep meaning for every one of us.
Dr. Ed Young's 4-message series, 
Famous Last Words
, takes you to the foot of the cross where you'll find Christ's final words of encouragement and inspiration will guide you through your own dark times and provide timeless truth to hold onto for a brighter future.
Receive your copy of 
Famous Last Words
 when you donate below. Thank you for your support of The Winning Walk!