November 19
Therefore we do not lose heart, but though our outer man is decaying, yet our inner man is being renewed day by day. - >2 Corinthians 4:16
Albert Speer, Hitler's architect, writes that the Nazi dictator was fascinated with monumental structures, and wanted Speer to design them according to the "theory of ruin value."* Hitler wanted Speer to project what the decayed buildings would look like in a thousand years, and draw them to retain elegance. Resisting decay in natural objects is futile. However, for the human spirit alive with God's life, there is no decay, only a constancy of renewal until the grand consummation of joy and peace when we meet Christ in His glory.
---
*Albert Speer, Inside the Third Reich, New York: Random House, 1983.
Click here to sign up for your free Winning Walk newsletter!
---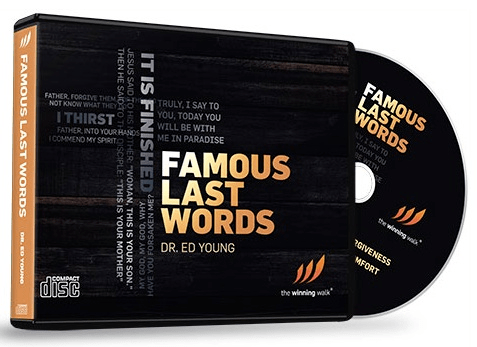 What people say in their final moments matters. And when those final words come from the most famous man in history, they hold deep meaning for every one of us.
Dr. Ed Young's 4-message series, 
Famous Last Words
, takes you to the foot of the cross where you'll find Christ's final words of encouragement and inspiration will guide you through your own dark times and provide timeless truth to hold onto for a brighter future.
Receive your copy of 
Famous Last Words
 when you donate below. Thank you for your support of The Winning Walk!