March 19
Faithful is He who calls you, and He also will bring it to pass. - 1 Thessalonians 5:24
If God calls you to something He's responsible for making it happen. The hammer can build whole houses, but only in the carpenter's hand. The hammer is the instrument, but the carpenter is the builder. God calls us to be tools by which His Kingdom advances in the world. Once we accept the call, it's His business to supply our needs, use us where we fit best, and finish the job. We work, then, from a position of rest, because He has promised that He is faithful to get the job done through people as available as a hammer is to carpenter.
Click here to sign up for your free Winning Walk newsletter!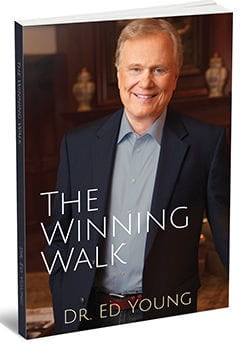 In
The Winning Walk
, Dr. Ed Young shares the basic principles and disciplines necessary to grow as a Christian. Whether you've been on the Christian journey for years or are just starting out, it will inspire you to follow God's way for your life.
The Winning Walk book is our gift to thank you for giving by our crucial March 31st financial year-end deadline. Your support will go directly to reaching people with the proven truth of God's Word.