July 18
O taste and see that the LORD is good; how blessed is the man who takes refuge in Him!
Psalm 34:8
Jo Beth and I went to seminary in North Carolina right after getting married, with no place to live and almost penniless. Then we met a lady who rented log cabins. The cold mountain wind pierced through in the winter and spiders in the summer. God gave Jo Beth a job, and soon we were able to rent a house. It was a small duplex, but to us it was a castle. Refuge is a precious thing when you know what it means to be exposed. But God's promise is that when you are in covenant with Him, you dwell in Him. He caulks the rafters and plugs the holes and covers you with a roof. You can rest at last.
Click here to sign up for your free Winning Walk newsletter!
---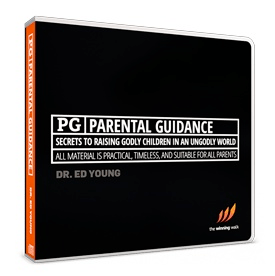 Transform how you think about parenting!
Most anyone can become a parent, but successful parenting eludes so many. Even many Christian families find themselves spiraling out of control as their children fall victim to drug and alcohol abuse, sexual promiscuity, and even suicide.
 
That's why Dr. Ed Young put together his easy-to-follow 3-message CD series, Parental Guidance. In it, Dr. Young reveals proven truth that every mother, father, and grandparent can immediately embrace in order to build and strengthen their family.
 
Parental Guidance is our gift to say thank you for your donation below to help share proven truth through The Winning Walk's broadcast ministry. We pray it transforms the way you think about parenting!