December 11
Surely our griefs He Himself bore, And our sorrows He carried; Yet we ourselves esteemed Him stricken, Smitten of God, and afflicted. But He was pierced through for our transgressions, He was crushed for our iniquities; The chastening for our well-being fell upon Him, And by His scourging we are healed. - >Isaiah 53:4-5
The person who says he has no problems is not telling the truth. God has not called us to live in deceit and fantasy. A mere confession that we are problem-free is not biblical faith, but delusion. What we are free to confess if we are in covenant with Christ is that there is not a need we have, problem we face, crisis we encounter or dread looming before us that has not been dealt with in the atonement of Jesus Christ. How, when and where He manifests the outcome to us is His business. Ours is to celebrate what Christ has done in bearing all our iniquities on Himself.
Click here to sign up for your free Winning Walk newsletter!
---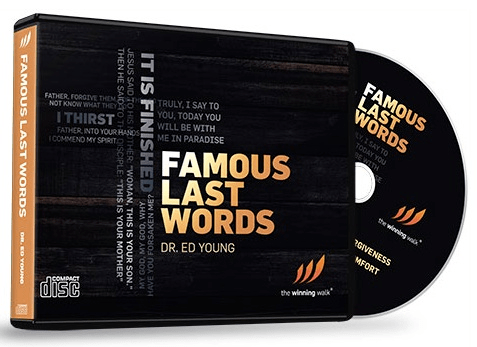 What people say in their final moments matters. And when those final words come from the most famous man in history, they hold deep meaning for every one of us.
Dr. Ed Young's 4-message series, 
Famous Last Words
, takes you to the foot of the cross where you'll find Christ's final words of encouragement and inspiration will guide you through your own dark times and provide timeless truth to hold onto for a brighter future.
Receive your copy of 
Famous Last Words
 when you donate below. Thank you for your support of The Winning Walk!