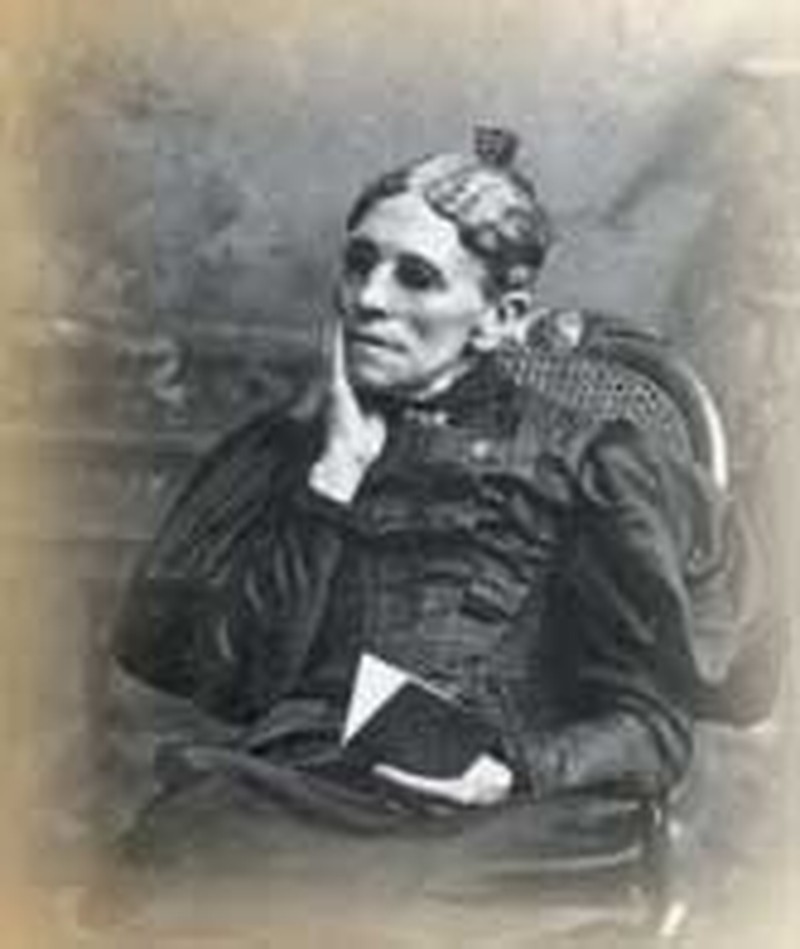 When I get to heaven, the first face that shall ever gladden my sight will be that of my Savior!"
Mercy Crosby held her tiny daughter's hands as little Fanny's face contorted in a scream of agony.
"Doctor, are you sure you have to do this to her?" Mercy asked through her tears of anguish.
"Mrs. Crosby, I know it's hard to hear little Fanny scream like this, but we must draw out the infection. These hot mustard poultices are the best way to do it."
"But she's so small, only six weeks old. Maybe we should wait until our regular doctor returns to town." Mercy tried to shut out Fanny's screams, but it proved too difficult. If anything, her screams were increasing in volume.
The traveling doctor replied impatiently. "Mrs. Crosby, as I told you, waiting would only make the infection worse. I know the treatment hurts Fanny, but it's much better to treat the infection immediately. You never know what could happen if an eye infection is left untreated."*
Mercy reluctantly accepted the doctor's diagnosis. Although Fanny's screams eventually subsided to a pitiful whimper, they still lingered on in Mercy's memory. The infection in Fanny's eyes went away, but her corneas had been burnt in the process, and scars began to form over them. In the weeks that followed, long after the unknown doctor had left town, John and Mercy Crosby realized that Fanny was not reacting to visual stimuli. Soon enough, their worst fears were confirmed--young Frances Jane Crosby was blind.
In time, just as Johann Strauss was considered the "Waltz King" and John Philip Sousa the "March King," Fanny Crosby was known as America's "Hymn Queen." One of her most famous hymns was "Blessed Assurance."
The Blessing of Blindness
If anyone had a right to be angry with God because of her circumstances, it was young Fanny Crosby. Just a year after she was blinded by the incompetent doctor, her father caught a chill while working in the cold November rain and died soon after. Twenty-one-year-old Mercy Crosby was left to provide for herself and her daughter. This she did by seeking employment as a maid. Fanny's grandmother cared for her during the day, and the two became very close. Fanny would later write, "My grandmother was more to me than I can ever express by word or pen."
Eunice Crosby took the time to help her granddaughter "see" the world around her. They spent hours walking in the meadow, where Eunice would describe the sights around her in as vivid detail as possible. Many hours were also passed sitting in an old rocking chair where Eunice would describe to Fanny the intricate details of the flowers and birds around her, or the beauty of sunrise and sunset.
But although Fanny was blind, she did not consider herself handicapped. She did many of the things other children did, and accepted her blindness with a positive attitude that was evident in the short poem she wrote when she was just eight years old:
She maintained this positive outlook all her life and considered her blindness a blessing, not the curse many would be tempted to call it. As she once stated, "It seemed intended by the blessed providence of God that I should be blind all my life, and I thank him for the dispensation. If perfect earthly sight were offered me tomorrow I would not accept it. I might not have sung hymns to the praise of God if I had been distracted by the beautiful and interesting things about me."
Eunice Crosby spent many hours reading the Bible to Fanny and teaching her the importance of prayer and a close relationship with God. She quickly discovered that Fanny had an amazing capacity for memorization and encouraged her to learn large passages of scripture by heart. Fanny memorized several chapters each week and could quote the Pentateuch, the Gospels, Proverbs, Song of Solomon, and many of the Psalms, and in her own words "The Holy Book has nurtured my entire life." This nurturing started very early in her life due to the influence and teaching of her grandmother.
Leaving Behind the Familiar
Shortly before she turned fifteen, Fanny boarded a steamboat that took her to New York, where she began her studies at The New York Institute for the Blind. Lessons were taught by lecture, since the Braille system was not widely used at this time. Fanny's phenomenal memory helped her retain the information she heard, and she enjoyed her studies, with one notable exception. As Fanny succinctly stated:
In 1843, Fanny joined the Institute faculty, teaching history and rhetoric for the next fifteen years. During this time, she gained recognition as a poet and met such well-known people as President James K. Polk, Henry Clay and William Cullen Bryant. She also recited some of her poetry before Senators and Representatives in Congress Assembly Hall. The audience included Jefferson Davis and former president John Quincy Adams. When Fanny finished her recitation, the applause was so deafening it actually sounded like thunder and frightened Fanny. Her encore was so moving that it left many Congressmen in tears.
"Take Good Care of My Boy"
Fanny and others at the Institute often traveled, presenting concerts and programs to make people aware of the Institute and what it offered to the blind. On one of these trips, Fanny made an acquaintance that would be quite significant to her future. Mary Van Alstine was so impressed with the Institute's exhibition that she determined to send her blind twelve-year-old son Alexander to the Institute as soon as she could. She wanted Fanny to be his instructor and told the twenty-three-year-old teacher, "Take good care of my boy." As biographer Bernard Ruffin stated, Mary did not realize that "Fanny would take such good care of little Alexander that he would later marry her!"
"Van," as Fanny called Alexander, was the first of the Institute's students to attend "regular college." After obtaining his teaching certificate, he returned to the Institute as a music teacher, where he and Fanny soon connected over their mutual love of music and poetry. Despite their eleven year age difference, their friendship rapidly ripened into love, and on March 5, 1858, they were married.
America's Hymn Queen
Fanny Crosby is best remembered for the nearly 9,000 hymns she wrote, but amazingly enough, she did not begin her hymn writing until she was in her forties. Publisher and hymn writer William B. Bradbury was unhappy with the quality of many of the hymns that were submitted to him for publication. He heard of Fanny's talent, and after verifying her ability, promptly hired her to write hymns for his company, telling her, "While I have a publishing house, you will always have work!"
Fanny knew she needed God's help in this new endeavor, and once described her hymn writing process this way: "It may seem a little old-fashioned, always to begin one's work with prayer, but I never undertake a hymn without first asking the good Lord to be my inspiration." And God provided inspiration from all areas of Fanny's life. While passing by a prisoner, she heard the man cry, "O Lord, don't pass me by," which quickly became the hymn "Pass Me Not, O Gentle Savior." When her friend Howard Doan played a melody for her and said, "See if it says anything to you," her joyful reply was, "Why, that says, 'Safe in the arms of Jesus!'" Within a half an hour, she had finished the poem. Her most famous hymn, "Blessed Assurance," is a personal testimony of her salvation.
Rescue the Perishing
Although Fanny was only paid a dollar or two for each of her hymns, she and Van could have lived comfortably on this income. But Fanny had other priorities and gave away anything that was not necessary to their daily survival. Because of this, the Van Alstines lived in a small, cramped apartment in Manhattan's Lower East Side. This was near one of Manhattan's worst slums, just a few blocks from the notorious Bowery, a well-known "haunt for hopeless alcoholics and the main artery of a thriving red light district and pornographic center."
Because of her proximity to this needy area, Fanny became zealous in her efforts to help the people around her. She became a great fan of Jerry McAuley, a former convict who was converted after hearing the testimony of a friend. Jerry founded the Water Street Mission, America's first rescue mission, to minister to those enslaved to alcohol and violence as he once had been. She often mingled with McAuley's audiences, conversing and counseling with those she met. She did not believe in pointing out people's faults to them. "You can't save a man by telling him of his sins. He knows them already. Tell him there is pardon and love waiting for him. Win his confidence and make him understand that you believe in him, and never give him up!"
Fanny's ministry of hymn writing and mission work spanned many decades. While best remembered for her hymns, her generosity and care for the dregs of society still challenge us today. She refused to let her blindness be anything other than a blessing from God. And when she died a month before her ninety-fifth birthday, she finally saw the face of her Savior, and knew Him "by the prints of the nails in his hands."
Patriotic Ancestry
Fanny's family had strong Puritan roots in New England. Her great-grandfather Charles fought against the British in the Revolutionary War, and Fanny grew up hearing stories of the bravery of her ancestors. In Fanny's own words, "When General Warren was killed at Bunker Hill, it was a Crosby who caught up the flag as it fell from his hands." Another relative, Enoch Crosby, was so successful as an American spy that he was once captured and imprisoned with the unit of British soldiers he was spying upon. He was probably the inspiration for James Fennimore Cooper's novel The Spy.
Fanny was so patriotic that when the Civil War broke out, she often pinned the Union flag to her blouse. When a southern lady found this offensive and snapped, "Take that dirty rag away from here!" Fanny was incensed and told the woman to "Repeat that remark at your risk!" The restaurant manager arrived on the scene just in time to prevent the two women from coming to blows.
The Hymns of Fanny Crosby
Fanny's hymns have sometimes been criticized as "gushy and mawkishly sentimental" and critics have often attacked both her writing and her theology. The fact remains, however, that she has exerted an enormous influence on American hymnody, and some of her hymns are still cherished by believers today. Although thousands of her hymns have faded into obscurity over the years, they nevertheless were meaningful to her contemporaries, speaking to their lives and expressing their devotion to God. As fellow hymn writer George C. Stebbins stated, "There was probably no writer in her day who appealed more to the valid experience of the Christian life or who expressed more sympathetically the deep longings of the human heart than Fanny Crosby." And many of her hymns have stood the test of time, still resonating with believers today. Hymns such as "Blessed Assurance," "Saved by Grace," "Draw Me Nearer," "Safe in the Arms of Jesus," "All the Way My Savior Leads Me," "To God Be the Glory," "Jesus, Keep Me Near the Cross," and "I Am Thine, O Lord," not only expressed Fanny's deep devotion to her Savior, but were backed up by a life that demonstrated the sentiments that she wrote about in her hymns.
Blessed Assurance
Blessèd assurance, Jesus is mine!
O what a foretaste of glory divine!
Heir of salvation, purchase of God,
Born of His Spirit, washed in His blood.
This is my story, this is my song,
Praising my Savior, all the day long;
This is my story, this is my song,
Praising my Savior, all the day long.
Perfect submission, perfect delight,
Visions of rapture now burst on my sight;
Angels descending bring from above
Echoes of mercy, whispers of love.
Perfect submission, all is at rest
I in my Savior am happy and blest,
Watching and waiting, looking above,
Filled with His goodness, lost in His love.
Read more about "Blessed Assurance" including full lyrics and video at Godtube.com
All the Way My Savior Leads Me
All the way my Savior leads me;
What have I to ask beside?
Can I doubt His tender mercy,
Who through life has been my Guide?
Heav'nly peace, divinest comfort,
Here by faith in Him to dwell!
For I know, whate'er befall me,
Jesus doeth all things well;
For I know, whate'er befall me,
Jesus doeth all things well.
All the way my Savior leads me,
Cheers each winding path I tread;
Gives me grace for every trial,
Feeds me with the living Bread.
Though my weary steps may falter,
And my soul athirst may be,
Gushing from the Rock before me,
Lo! A spring of joy I see;
Gushing from the Rock before me,
Lo! A spring of joy I see.
All the way my Savior leads me
O the fullness of His love!
Perfect rest to me is promised
In my Father's house above.
When my spirit, clothed immortal,
Wings its flight to realms of day
This my song through endless ages—
Jesus led me all the way;
This my song through endless ages—
Jesus led me all the way.
Draw Me Nearer
I am Thine, O Lord, I have heard Thy voice,
And it told Thy love to me;
But I long to rise in the arms of faith
And be closer drawn to Thee.
Draw me nearer, nearer blessed Lord,
To the cross where Thou hast died;
Draw me nearer, nearer, nearer blessed Lord,
To Thy precious, bleeding side.
Consecrate me now to Thy service, Lord,
By the pow'r of grace divine;
Let my soul look up with a steadfast hope,
And my will be lost in Thine.
Oh, the pure delight of a single hour
That before Thy throne I spend,
When I kneel in prayer, and with Thee, my God
I commune as friend with friend!
There are depths of love that I cannot know
Till I cross the narrow sea;
There are heights of joy that I may not reach
Till I rest in peace with Thee.