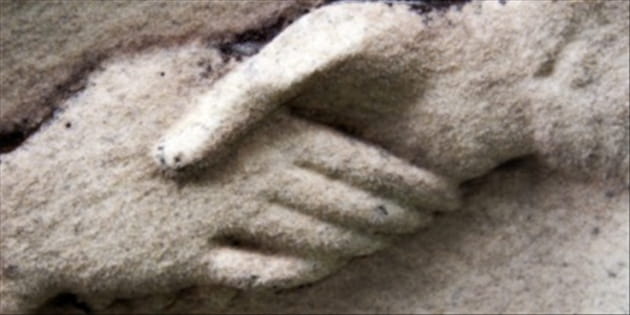 Editor's Note: The following is a report on the practical applications of Dick Bernal's new book, Shaking Hands with God: Understanding His Covenant and Your Part in His Plans for Your Life, (Regal Books, 2008).
Are you sure where you stand with God? God wants you to know that your bond with Him is secure. Thanks to the covenant God has made with you, you can approach Him with confidence and fully enjoy your relationship with Him.
Here's how you can bond with God:
Get to know God well. Even though God has initiated a covenant with you, a covenant requires a reciprocal interchange between partners. So respond to God. Decide to pursue God with all your heart, since He has promised that if you do so, you'll find Him. Do more than just attending church once a week. Invite God to take His rightful place at the center of your life. Make your relationship with Him your top priority, and base all of your decisions around that reality. Communicate with God regularly through prayer. Read, memorize, and meditate on His Word, the Bible, often. Put your biblical knowledge to practical use so it will become wisdom. Get to know God well so you can relate to Him intimately and enjoy a close relationship with Him.
Learn God's language. God speaks the language of faith. The stronger your faith grows, the better you'll be able to communicate with God. Be willing to follow where you sense God leading you; doing so will strengthen your faith each time you say "yes" to God.
Recognize the difference between a covenant and a contract. Our society's main form of relationship is a contract – an agreement between two parties that focuses on what each promises to do for the other and can easily be broken. But God wants to relate to you through covenant – an unconditional promise of a permanent relationship. Don't let the world's prevailing form of relationship limit your thinking on how you can relate to God. Although other people can let you down, God will always prove reliable. Count on God to always do what's best. Unlike with a contract, in a covenant it's God Himself who protects your best interests. Decide to trust Him with every aspect of your life.
Stop striving. Since you have the assurance of God's covenant with you, you don't have to worry about trying to earn His love or fretting that you may lose His love when you make mistakes. Rest in the reality that God's love is yours for now and forever.
Overcome pride. Pride will distance you from God. Ask God to show you areas where pride may be interfering with your relationship with Him. Confess the sin of pride in your life whenever you become aware of it. Ask God to help you develop a more humble attitude so you can draw closer to Him.
Overcome fear. Fear will give you the urge to flee from God's presence, when what you need to do instead is run toward Him for comfort and forgiveness. When you make mistakes, confess them and learn from them. Turn toward God and let the promise of His covenant restore you.
Pass the tests. God will sometimes test your faith. When God calls you to do something that seems ridiculous to others, choose to listen to God instead of worrying about what other people think. When you encounter a temptation, decide not to yield to it so you can please God and avoid trouble for yourself. God has demonstrated His perfect faithfulness through His covenant with you; place your full faith in Him.

Embrace God as a Father. Recognize that the quality of your relationship with your human father can affect how you view your heavenly Father, God. If you've had an unhealthy relationship with your human father, work through the healing process as God leads you so you can come to understand true fatherly love.