The Critical Importance of Continuity
"… But you must continue in the things which you have learned and been assured of knowing from whom you have learned them …" - (2 Timothy 3:14)
Paul wrote these words to Timothy, his son in the faith, from the dreadful prison in Rome where he was very soon executed. These were the last words of the Apostle Paul and his last words to Timothy. That reality should add much weight to these words. He was telling Timothy it is vitally important that we continue in the things we have learned and have proven to be true.
The Apostle John records words of Jesus (John 8:31-36) where He told people who had just professed faith in Him that they must continue in His Word and become His disciples indeed. He promised them that if they would continue in this way they would come into a relationship with the One Who is the Truth, and when that happened, they would be free indeed. Disciples indeed, free indeed, if they continue.
Why is it that so very many do not continue? That's the bad news. The good news is that a "committed minority" does continue and when they do, they eventually establish a relationship with the risen, living Christ. Paul answered that question for us. When he was in prison and could not be present with his favorite church at Philippi he wrote them that he was confident that they would continue in the faith because God had begun a great work in their lives and He would continue that work until Jesus returns. (Philippians 1:6; 2:13)
Will you acknowledge the critical importance of continuity and cooperate with the One Who wants to continue His work in you by continuing as a disciple indeed?

---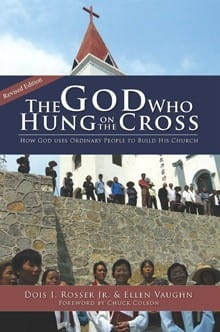 Free Book: The God Who Hung on the Cross
This newly revised paperback edition features reflections on 25 years in ministry by Dois Rosser. The book details the history and vision of ICM, the parent organization for the Mini Bible College, and the vehicle for distributing MBC to congregations around the world. Dois' story is an inspiration, encouraging Christians to give of their time and resources to experience the abundant power of God at work. Journey around the world with Dois and discover that you too can be a part of something bigger than yourself!