Choices and Consequences
Psalm 107 (cont'd)
17 Fools, because of their transgression,
And because of their iniquities, were afflicted…
19 Then they cried out to the LORD in their trouble,
And He saved them out of their distresses.
20 He sent His word and healed them,
And delivered them from their destructions.

After being redeemed from chaos and chains the refrain is repeated that men thus redeemed should thank the LORD for His goodness and for His wonderful works in their life.
When the third level of redemption is described in the stanza above, observe the emphasis upon the hard reality that those being redeemed in this way are responsible for the consequences they are experiencing. Five times we are told that they are suffering the consequences of their transgression, their iniquities, their trouble, their distresses and their destructions.
Robert Louis Stevenson wrote, "Soon or late every man must sit down to a banquet of consequences." The third stanza tells how God redeems from the consequences of stupid and foolish CHOICES. Again the refrain is repeated that we should praise Him and thank Him when He delivers us in this way.
Those of us who have experienced the first two levels or dimensions of redemption can still make foolish and stupid choices that can land us in difficult situations or even in the hog pens of this world. Like the prodigal son we must come to our senses and be redeemed from the consequences of our foolish choices.
The prodigal in the story of Jesus experienced his elderly Father running to him and smothering him with love and affection. In the same way we will find the love of God passionate about redeeming us from the consequences of our foolish and prodigal choices.

---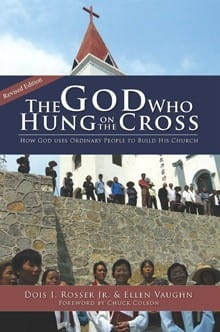 Free Book: The God Who Hung on the Cross
This newly revised paperback edition features reflections on 25 years in ministry by Dois Rosser. The book details the history and vision of ICM, the parent organization for the Mini Bible College, and the vehicle for distributing MBC to congregations around the world. Dois' story is an inspiration, encouraging Christians to give of their time and resources to experience the abundant power of God at work. Journey around the world with Dois and discover that you too can be a part of something bigger than yourself!