The Pursuit of God
 "So I say to you, ask, and it will be given to you; seek, and you will find; knock, and it will be opened to you." (Luke 11:9)
The preaching of Jesus quoted above from Luke's Gospel is repeated in the seventh chapter of the Gospel of Matthew. Jesus challenges us in these two places to ask, to seek and to knock. Seeking is intense asking and knocking is intense seeking. The context will show you that He was not speaking of the forgiveness of sins or of faith. He was speaking of knowing God in a real and personal way. Revised translations will show you that this asking, seeking and knocking is to be continuous and with great perseverance. This is what the theologians call "Importunate prayer."
This exhortation is followed by the absolute promise that everyone who asks will receive and everyone who seeks will find and everyone who is willing to knock on the door of knowing God will find that door opening to them. If your personal pursuit of God isn't working in this way you have two choices. You can question the integrity of the One who made these promises, or you can consider the possibility that your pursuit of God may be flawed.
If this is a new thought to you I challenge you to take Jesus up on His challenge. The context of this teaching as quoted above was that Jesus was a Man of intense prayer and His disciples were not. This was His response to their request to teach them what He knew about prayer that they obviously did not know. I challenge you to prioritize much time to intentionally pursue God. Your pursuit of God could be the greatest pursuit of your life!

---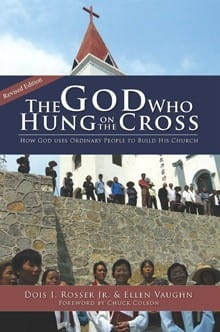 Free Book: The God Who Hung on the Cross
This newly revised paperback edition features reflections on 25 years in ministry by Dois Rosser. The book details the history and vision of ICM, the parent organization for the Mini Bible College, and the vehicle for distributing MBC to congregations around the world. Dois' story is an inspiration, encouraging Christians to give of their time and resources to experience the abundant power of God at work. Journey around the world with Dois and discover that you too can be a part of something bigger than yourself!