"God will never put you in a situation that you can't handle." — Unknown
I hear that saying all the time. Sometimes I automatically nod my head because it just sounds right, like a plaque on your mom's fridge. It is usually presented as a concise summary of God's care for us. The problem is, it isn't true…
We've all hit obstacles in our walks that aren't possible for us to pass. In fact, I'd even say that God puts things in our lives that we can't take care of on purpose. If we could handle everything on our own, there would be no need for us to rely on God, and that's how we were designed to live!
And God is able to bless you abundantly, so that in all things at all times, having all that you need, you will abound in every good work. —2 Corinthians 9:8.
He is able to empower us.
Because of God's grace, we are able to do things that we would be unable to do on our own. How does that work? I have no idea! I don't know how it is that He energizes our thoughts or the molecules in our bodies to allow us to accomplish things and choose things that we couldn't without His strength. But we know that He does. And when we obey Him and allow Him to work through us, we also experience it.
Father, it's tough to take on the challenges that I sometimes have to face. I don't want to try it on my own. I'm weak. You are strong. Be my strength. May others see what You're doing through me and be amazed by it. Let the world know through Your works in me that You are the source of this power! Amen.
Listen to Pete, Jill & Stuart Briscoe on the Telling the Truth broadcast at OnePlace.com
SPECIAL OFFER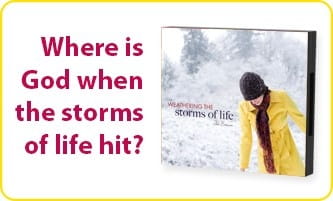 To thank you for helping even more listeners experience Life in Jesus Christ, we want to send you a CD copy of Jill's message, Weathering the Storms of Life. Its encouraging teaching reminds you God is in control and has a plan for your life – no matter what suffering comes your way. So please request your copy of Weathering the Storms of Life as our thanks for your gift below, which will be doubled by the $100,000 Matching Grant. God bless you for your generosity!