Ed Young Television Devotional
Power and Control
"When King Herod heard this he was disturbed, and all Jerusalem with him." >Matthew 2:3
THINK
When Herod heard that a new king had been born, he went on tilt. In his mind and heart, there was no one on earth or in heaven who held a higher position than himself. He had placed himself on the throne of his life, and refused to relinquish power and control to anyone, including Jesus – the newborn King. He
Have you placed yourself on the throne of your life? Are you holding on to power and control with a white knuckle grip? The reality is that we aren't designed to be our own king. God, in His sovereign wisdom, has placed us on earth in order to worship Him. It is only when we give up power and control to Him that we discover the purpose and potential of true power and control in our lives.
PRAY
Ask God to reveal any area of your life that you have refused to surrender to Him. Ask for humility and clarity as you seek to give Him full control.
ACT
Write down one area of your life that you need to relinquish control of to Jesus. Today, and tonight, remember Jesus was born to become the King of our lives. Do what you need to do – give Him full control.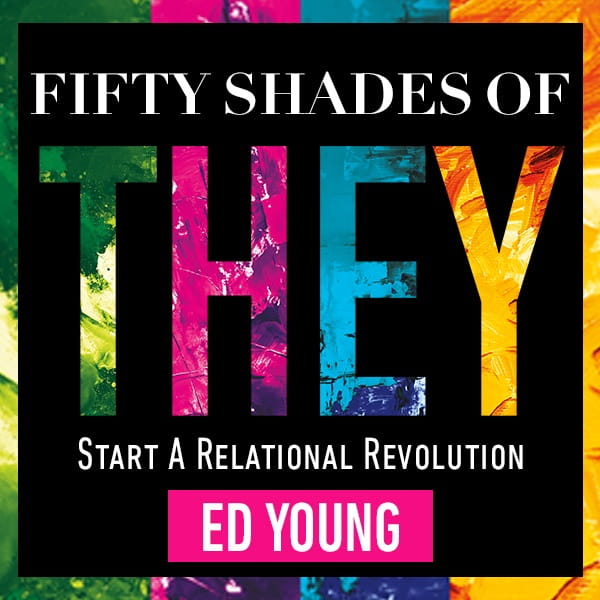 FIFTY SHADES OF THEY From New York Times Best-Selling Author Ed Young
Fifty Shades of They gives you fifty simple, yet profound insights that will help any relationship thrive, from friendships to business partnerships to marriages. Based on biblical standards and the teaching of Ed Young, this book is written for anyone who is looking to give new life to their relationships.
For more information about this and other subjects, visit the Ed Young Television website: www.edyoung.com