November 15
For I am not ashamed of the gospel, for it is the power of God for salvation to everyone who believes, to the Jew first and also to the Greek. Romans 1:16
"I'm proud of the Gospel," says Paul (Moffet Translation). When I'm proud of what I can do without God, it positions me like a raft trying to go upstream in gushing rapids. But when I'm proud of the transforming work of the Gospel in my life and others, I'm flowing in the mighty river of God, buoyed by His surge. My pride says I can change myself, but humility says only Jesus Christ can transform me. I have no grounds for personal pride, but immense reason to be proud of His power, declared in the Good News of Jesus Christ. 
Click here to sign up for your free Winning Walk newsletter!
---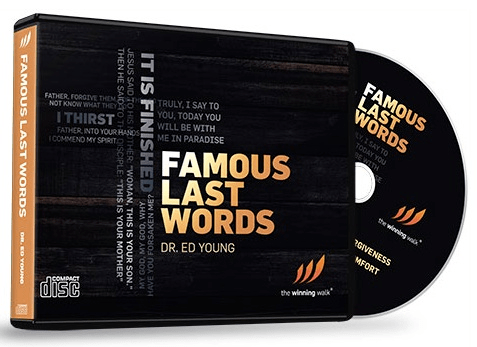 What people say in their final moments matters. And when those final words come from the most famous man in history, they hold deep meaning for every one of us.
Dr. Ed Young's 4-message series, 
Famous Last Words
, takes you to the foot of the cross where you'll find Christ's final words of encouragement and inspiration will guide you through your own dark times and provide timeless truth to hold onto for a brighter future.
Receive your copy of 
Famous Last Words
 when you donate below. Thank you for your support of The Winning Walk!