July 4
Blessed is the nation whose God is the LORD, The people whom He has chosen for His own inheritance.
Psalm 33:12
Frederick the Great supposedly asked his chaplain for a simple proof of God's existence. "The Jews," the chaplain responded. I would include America. I was disturbed as a young history major that what we learn from history is that we seem never to learn from history, to paraphrase one scholar. When God is Lord of a nation her values reflect His character, her culture reverences Him, and her leaders submit to Him as Supreme Sovereign. As long as a nation places itself under the true God, revealed in the Bible, she is blessed. America proves it. We must relearn that historic principle or lose the blessing.
Click here to sign up for your free Winning Walk newsletter!
---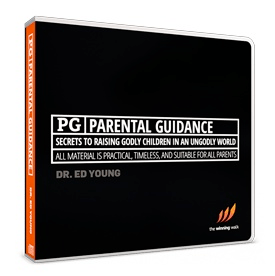 Transform how you think about parenting!
Most anyone can become a parent, but successful parenting eludes so many. Even many Christian families find themselves spiraling out of control as their children fall victim to drug and alcohol abuse, sexual promiscuity, and even suicide.

That's why Dr. Ed Young put together his easy-to-follow 3-message CD series, Parental Guidance. In it, Dr. Young reveals proven truth that every mother, father, and grandparent can immediately embrace in order to build and strengthen their family.

Parental Guidance is our gift to say thank you for your donation below to help share proven truth through The Winning Walk's broadcast ministry. We pray it transforms the way you think about parenting!