July 23
How blessed are those who keep justice, who practice righteousness at all times!
Psalm 106:3
Practice makes perfect. Practicing righteousness is a strange phenomenon. The moment a person receives Jesus Christ as Savior, he or she is justified, and declared "perfect." Yet the practice of righteousness moves one toward perfection. How can you progress toward what you already have? The covenant person lives on two levels—Heaven and earth. In Heaven, to be in Christ is to have already arrived in His perfection. Practicing righteousness in the earthly life is moving toward the state of being one already possesses in Heaven. 
Click here to sign up for your free Winning Walk newsletter!
---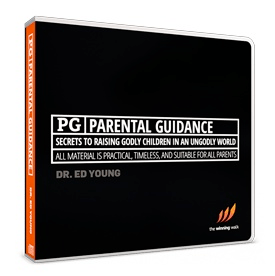 Transform how you think about parenting!
Most anyone can become a parent, but successful parenting eludes so many. Even many Christian families find themselves spiraling out of control as their children fall victim to drug and alcohol abuse, sexual promiscuity, and even suicide.
 
That's why Dr. Ed Young put together his easy-to-follow 3-message CD series, Parental Guidance. In it, Dr. Young reveals proven truth that every mother, father, and grandparent can immediately embrace in order to build and strengthen their family.
 
Parental Guidance is our gift to say thank you for your donation below to help share proven truth through The Winning Walk's broadcast ministry. We pray it transforms the way you think about parenting!