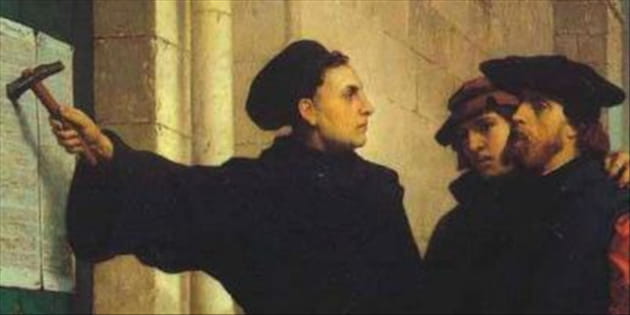 The Rev. Eric Bergman thinks he has seen the future -- and it isn't Protestant. Known as Father Bergman now, Rev. Bergman became a Catholic priest after serving for years as an Episcopalian minister. His conversion to Roman Catholicism came, he relates, after he began to ponder the moral and theological issues related to contraception. Looking back, he dates the fall of the Anglican tradition to 1930, when the Church of England accepted birth control. "Out of that," he says, "came a confusion about the roles of men and women, a
theology
of androgyny."
We know all this thanks to an article by Charlotte Hays, whose writings are always thoughtful and perceptive. She serves as editor of a very interesting journal, In Character, but this article was published in Friday's edition of The Wall Street Journal. In "The Beginning of the Reformation's End?," she fires a salvo at mainline Protestantism.
She writes of a Washington gathering of "ex-Episcopalians, curious Catholics, and a smattering of earnest Episcopal priests in clerical collars" who were drawn to an Evensong and Benediction service sung according to the Book of Divine Worship, which Hays describes as "an Anglican use liturgical book still being prepared in Rome." In the main, it follows the order and language set down by Thomas Cranmer almost 500 years ago.
Confused yet? The phrase "Anglican use" refers to a limited allowance for Roman Catholics to use a revised version of the Anglican liturgy in Catholic worship. The idea has taken on a new urgency with Pope Benedict XVI's declaration of the Apostolic Constitution known as Anglicanorum coetibus, handed down back in November. As Hays rightly explains, this papal allowance "provides for former Anglicans to come into the Catholic Church as a group and retain certain of their traditions."
Significantly, Anglican priests undergoing conversion to Catholicism under this constitution may retain their wives, but if their wife should subsequently die, the priest may not remarry. Priests who convert to Catholicism are "every bit as much priests as other Catholic priests," she insists, even though married priests will not be eligible to serve as bishop. There will be an "ordinariate" (much like a diocese) that will oversee Episcopalian members, priests, and congregations that convert.
The Pope's outreach to Anglicans did not go without protest from Anglican leaders, including the Archbishop of Canterbury, Rowan Williams. Nevertheless, there is more here than Catholic opportunism. The Pope is reaching out to Anglicans who are outraged by the liberalism within their communion. The election of an openly-homosexual bishop in 2003 was the last straw for many Episcopalians. The election of a second openly-gay bishop in recent weeks will add insult to injury.
Rev. Bergman sees even more. As Charlotte Hays reports:
But Father Bergman not only predicts a mass movement toward Rome. He believes Anglican Use may mark the beginning of the end of the Reformation. There will be "a flourishing of this throughout the world," he says. "Wherever there are Anglicans, there will be people who want to enter Holy Mother Church." As he told a rapt audience at St. Mary's, "If we look at histories, heresies run themselves out after about 500 years. I believe we are seeing the last gasp of the Reformation in the mainline Protestant groups."
The beginning of the end of the Reformation? Rev. Bergman sees the 60 people gathered for Evensong and Benediction as a sign that the Reformation is over. He describes the Reformation as a movement of "heresies" and then suggests, quite creatively, that "heresies run themselves out after about 500 years." Thus, he now sees "the last gasp of the Reformation in the mainline Protestant groups."