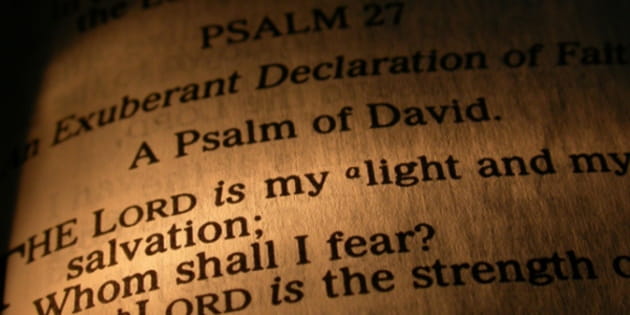 Why read the Psalms? Because they are designed to heal. In particular, they are designed to heal by pointing ourselves to Jesus. I know that when I read the Psalms I will not come across the name "Jesus" anywhere, but if the New Testament writers are to be believed, the soul language of the Psalms finds its fulfillment in Jesus, and in so doing it heals me by his wounds. Consider Psalm 2, Psalm 110, and Psalm 118 with me:
Psalm 2 says,
Why do the nations rage
and the peoples plot in vain?
2 The kings of the earth set themselves,
and the rulers take counsel together,
against the Lord and against his Anointed, saying,
3 "Let us burst their bonds apart
and cast away their cords from us."
4 He who sits in the heavens laughs;
the Lord holds them in derision.
5 Then he will speak to them in his wrath,
and terrify them in his fury, saying,
6 "As for me, I have set my King
on Zion, my holy hill."
7 I will tell of the decree:
The Lord said to me, "You are my Son;
today I have begotten you.
8 Ask of me, and I will make the nations your heritage,
and the ends of the earth your possession.
9 You shall break them with a rod of iron
and dash them in pieces like a potter's vessel."
10 Now therefore, O kings, be wise;
be warned, O rulers of the earth.
11 Serve the Lord with fear,
and rejoice with trembling.
12 Kiss the Son,
lest he be angry, and you perish in the way,
for his wrath is quickly kindled.
Blessed are all who take refuge in him.
When I read this psalm, I gain boldness. Consider Acts 4:23-31. The disciples had just been commanded not to preach any more in the name of Jesus. They refuse to obey this command because they must obey God's commands when they conflict with human commands (Acts 4:19). They continue to speak the word of God with boldness. What is it that gives this confidence? The answer is found in the prayer of Acts 4:23-31, a prayer which focuses upon a correct understanding of Psalm 2.
23 When they were released, they went to their friends and reported what the chief priests and the elders had said to them.24 And when they heard it, they lifted their voices together to God and said, "Sovereign Lord, who made the heaven and the earth and the sea and everything in them, 25 who through the mouth of our father David, your servant, said by the Holy Spirit,
"'Why did the Gentiles rage,
and the peoples plot in vain?
26 The kings of the earth set themselves,
and the rulers were gathered together,
against the Lord and against his Anointed'—