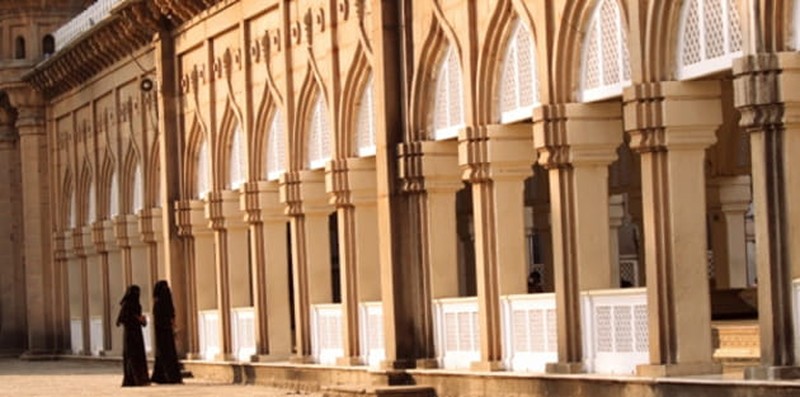 Thabiti Anyabwile is a former Muslim who now serves as pastor of First Baptist Church of Grand Cayman in the Grand Cayman Islands. His book (The Gospel for Muslims: An Encouragement to Share Christ with Confidence
[Moody, 2010] ) is a terrific reminder that the gospel is the power of God unto salvation, Muslims included.
Trevin Wax: Tell us a little about your Muslim background.
Thabiti Anyabwile: I grew up in a nominally Christian home and community in North Carolina. From time to time we'd attend church, but I don't remember that the gospel was clearly preached. And I certainly didn't have ears to hear it if it was.
After being allowed to join the church and being "baptized" with no understanding of the gospel or testimony of conversion, I came to believe that Christianity was "pie in the sky" myth. My father left the family when I was about 14. Between his leaving, the anger that ensued, and my experience with nominal Christianity, I was quite primed to hardened my heart toward the Lord.
My freshman year in college, I met a number of men on campus who were clean cut, upright, spoke boldly about loving your families and contributing to community, and the need to submit to God. It was the first time I'd seen that many strong African-American men. I was drawn to them like a moth to flame. I recognized I needed the discipline and commitment they were describing.
Long story short… these were Muslim men. I began to study Islam with some of them and my sophomore year converted to Islam. For the couple years that followed, I was zealous for Islam, leading some students to embrace the faith. I was something of the campus Saul, opposing the gospel and anything having to do with the biblical Jesus.
Trevin Wax: How did God bring you out of Islam?
The Lord drew me out of Islam in about three phases. First, He allowed me to see the inconsistencies of Islam on its own terms. That began one Ramadan, when I rose early for prayer and to begin the fast. I spent some time reading the Qur'an, as was habit. But that morning, I was suddenly aware of the many inconsistent claims of Islam. That began a period of further study and questioning, at the end of which I was sure that Islam was not consistent in its claims.
The second phase had to do with coming to see my lack of righteousness. It was literally a water cooler conversation with a former college classmate who now worked with me. She described me as the most righteous person she knew. And at hearing her praise, I felt utterly bereft of any of the things she said about me. She described a lot of external behaviors that were as true as far as they went. But I knew my heart, the sin and anger and lust that dominated me. And I also knew that legalistic religion and self-righteousness were an illusion.
The third phase featured a hard blow from the Lord. My wife and I lost our first child at about three months into the pregnancy. The Lord humbled us and softened us. During that period of mourning, perhaps even of depression, we began to hear the gospel preached through a pastor's weekly television program. We attended his church one Sunday and he preached what is till one of the best expositions I'd ever heard on Exodus 32. It was Law and Gospel. And in God's richest kindness, He saved my wife and I through the preaching of the gospel on that day.
Trevin Wax: You write in the introduction that many Christians feel unequipped to share the gospel with Muslims. Why do we feel this way? And why should we be confident?
Thabiti Anyabwile: Many Christians seem to accept two myths when it comes to sharing the gospel with Muslims. First, many Christians tend to think every Muslim has memorized the Qur'an and is likely a radical. That's the "super Muslim" myth.
Second, many Christians think they need to be world class apologists, able to answer ever Muslim question or critique of Christianity. That's the "I'm so inadequate" myth.
The result of these two assumptions is that many Christians harbor a lot of fear when it comes to speaking with Muslims. And that fear causes a crisis in confidence—they doubt that the gospel is the power of God unto salvation for everyone who believes. They shrink back, telling themselves that they don't know enough, that their Muslim neighbor is more confident, and that it's probably no use.
The truth, however, is exactly the opposite. If we are Gospel-believing Christians, with even a basic understanding of the "good news," then we know all that we need to know in order to effectively reach our Muslim neighbors and friends. The power of God is not in our wisdom or in our techniques; those things threaten to empty the cross of its power (1 Cor. 1:17).
But the gospel itself, that is the power of God unto salvation for everyone who believes. In the message of Jesus' perfect righteousness, sacrificial death for our sins, glorious resurrection, and second coming in glory, God has placed His power to make sinners new, to raise spiritually dead men to life, to change the hardest human heart into a heart that loves God, to justify us and satisfies His righteous wrath. What we need is confidence in the gospel, for God makes the gospel to triumph in every nation.
Trevin Wax: Why is the doctrine of the Trinity so important in Christian evangelism of Muslims?
Thabiti Anyabwile: The short answer is because John 17:3 tells us that eternal life is to know the only true God and Jesus Christ whom He has sent. John 4:24 says the Father seeks a people who will worship Him in spirit and in truth. An accurate knowledge of God is what makes the difference between idolatry and a genuine personal relationship with God. If we get God wrong, we get everything wrong. So, the fact that God reveals Himself as Triune in nature—one God existing eternally in Three Persons—becomes critical for receiving eternal life.
The slightly longer answer is that each Person in the Trinity plays a significant role in the redemption of sinners. The Father administers our salvation, the Son accomplishes our salvation, and the Spirit applies our salvation (Eph. 1:3-14). If we surrender the biblical doctrine of the Trinity, we surrender the gospel itself.
Trevin Wax: You devote an entire chapter to hospitality. How does hospitality bolster our evangelistic witness?
Thabiti Anyabwile: The Scripture commands us to "be hospitable." The active practice of hospitality has several spiritual benefits. When we move out toward others in hospitality, we make our love concrete and real. Hospitality helps us conquer the tendency to privatize our faith, fear of man, passivity, and even xenophobia. When we practice hospitality, we're able to show kindness to strangers (Exod. 22:21; 23:9; Heb. 13:2), to build meaningful relationships, and in a certain sense to render service to Jesus himself (Matt. 25:34-40).
Sadly, most immigrants to the United States never enter a Christian home. In our failure to be inviting and to care for "the strangers in our gates," we end up forfeiting precious opportunities to help them settle into the community, cross cultural bridges, and alter stereotypes of Christians. Hospitality brings us close to people in intimate settings. And that both commends the gospel and creates gospel opportunity.
Trevin Wax: How do Muslims view the Christian church? And how does their view help or hinder our witness?
Thabiti Anyabwile: Most Muslims confuse Christianity and the Christian with "the West" in general. They use the terms as synonyms. And since many Muslims view the West as a place of decadence, sensuality, immorality, and injustice, they tend to think of Christians as hypocrites, people professing religious faith but living lives quite contrary.
We have to be quite honest and sober about this critique. For the Lord himself said that the world could legitimately judge the authenticity of our discipleship by how we love one another (John 13:34-35). He calls us to let our light so shine before men that our Father in heaven would be praised (Matt. 5:16). So, this critique, while sometimes wrongly confusing Western culture with Christianity, needs to be heard and addressed.
I think we'll find that there are places where we fall short of demonstrating what the new community of God's redeemed people looks like. In those areas, we need to repent and turn to Christ for fresh grace.
But this critique also gives us an opportunity. The church is filled with hypocrites—but redeemed hypocrites. We are imperfect ambassadors of Christ, but we mourn our shortcomings, we do recognize a significant difference between the world and the church, and we have the only real solution to hypocrisy—the gospel.
In Islam, hypocrisy is always a reality. The Muslim is always conscious of his failings to submit to the will of Allah. If he or she is honest, they know that no amount of religious observance delivers them form the stain of sin and the inconsistency that arises.
Only the cross of Christ removes that stain and the sin that caused it. Only the grace of God in Christ Jesus promises a clean conscience, peace and reconciliation with God, and the power of a renewed life. So, we have the opportunity to demonstrate the power of the gospel by humbly confessing our weaknesses and sins, by living in ways that are genuinely distinct from the worldly culture that surrounds us, and by holding out the perfect righteousness of Christ as our righteousness by faith.
Trevin Wax: For those who do not know any Muslims personally, how would you recommend we start building relationships?
Thabiti Anyabwile: First, pray. Ask the Lord to lead you to specific relationships where you can be fruitful in His cause.
Second, consider your leisure and shopping habits. Are there some restaurants or retail establishments that you could visit that would put you in contact with Muslim neighbors?
Third, build a network. If you don't have any Muslim friends, there is a good chance that someone in your church or workplace does. "Borrow" their Muslim friends by opening your home and inviting them over.
Fourth, become involved in a ministry or community service that reaches out to Muslim people in your neighborhood. Many college campuses have programs that connect international students, many of whom are Muslims, with host families in the States. Volunteer at an English-as-a second-language program where you'll meet many people trying to adjust to life in a different culture. You could be of great service to them and build real friendships. Those would be some of the ways to personally meet Muslim neighbors and co-workers.
Once you've met them, take an interest in their lives and open your life to them. Do the things that are natural for you when it comes to building in friendships. Invite them to your home, to a restaurant for dinner, to a ball game to watch your kids play, and so on. It doesn't need to be fancy, just loving. And the Lord will give you grace as you speak the good news of His salvation through faith in His Son.
Trevin Wax is the editor of GospelEPIC, a small group curriculum developed by LifeWay Christian Resources. He blogs daily at Kingdom People. He is also the author of Holy Subversion (Crossway, 2010) and Counterfeit Gospels (Moody, 2011).