A HARD Leader - Part I
By:Rick Boxx
June 7, 2016
Moses was a great leader who learned that being a servant leader is HARD. This week we will use the acronym HARD to discuss some of Moses' amazing qualities.
Moses learned that to be a good leader he needed to be Humble, Approachable, a Representative of God, and a Delegator. The first attribute is Humble.
Although Moses was chosen and equipped by God to lead hundreds of thousands of Israelites out of Egypt, Moses remained humble. He didn't laud his power over others.
In Numbers 12:3 we learn, "(Now Moses was a very humble man, more humble than anyone else on the face of the earth.)"
No matter how many people you lead, or how powerful you are, God calls us to be humble. God is the source of all power.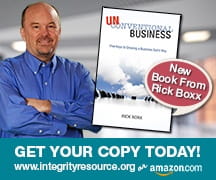 Learn more about Rick Boxx and Integrity Resource Center