from Day by Day with the Persecuted Church

For we do not have a high priest who is unable to sympathize with our weaknesses, but we have one who has been tempted in every way, just as we are - yet was without sin. (Hebrews 4:15)
Let us, then, go to him outside the camp, bearing the disgrace he bore. (Hebrews 13:13)
Remarkable Remarks-Victorious Under Pressure
Chinese Evangelist writing from prison: "I am not afraid of being looked down upon by people, because, when I look up I see the smiling face of God.
George MacDonald: "No man ever sank under the burden of the day. It is when tomorrow's burdens are added to the burden of the day, that the weight is more than a man can bear."
John Trapp: "God has one Son without sin, but none without sorrows."
Anonymous: "Persecution for Christ's sake is not a mark of defeat, but of victory."
Wong Ming Dao: "Stand firm in your faith, live the Christian life you confess; God can use you wherever you are."
William Orchard: "It may take a crucified Church to reach the world with the message of a crucified Christ."
Copyright [C] 1995 Open Doors International. Used by permission.
Click here to sign up for a free monthly newsletter from Open Doors about persecuted Christians.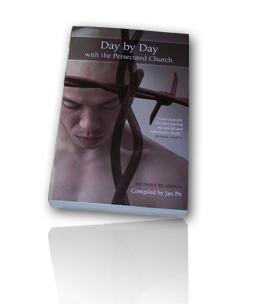 Day by Day with the Persecuted Church
compiled by Jan Pit with a forward by Brother Andrew (paperback, revised 2000)
Compelling wisdom from the pen of actual believers living amidst persecution, you'll be connected to the suffering, courage, and depth of life that exists in the harshest places in the world. Each of these 365 thought-provoking devotions will deepen your understanding of Christian persecution and provoke you to pray for our brothers and sisters with a new found depth.