from Day by Day with the Persecuted Church

I tell you the truth. Anyone who will not receive the Kingdom of God like a child will never enter it. (Mark 10:15)
Lucien Accad
It was early in June at the beginning of the war in our country. I had to attend to some business in town and took my five-year old son with me. Suddenly shooting erupted. Bullets whistled all around us. People, panicking, were running for shelter. I was trying to remain calm as I did not want my son to panic, and I prayed in my heart for God's protection. When everything had calmed down "after the storm," I wanted to make sure my son was okay and asked him, "Yves, are you okay? Did you see what happened?" "Yes, dad," he said, "people were trying to kill each other." "Were you afraid?" I asked. "Of course not," was his answer. "Daddy, I was holding your hand."
What confidence. As if my hands could protect him from the bullets. Sixteen years later, the war is still raging. But I have never forgotten those simple words from my little son. It has always reminded me that if I have my hand in the Father's hand I don't need to panic.
Copyright [C] 1995 Open Doors International. Used by permission.
Click here to sign up for a free monthly newsletter from Open Doors about persecuted Christians.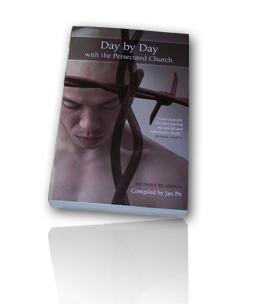 Day by Day with the Persecuted Church
compiled by Jan Pit with a forward by Brother Andrew (paperback, revised 2000)
Compelling wisdom from the pen of actual believers living amidst persecution, you'll be connected to the suffering, courage, and depth of life that exists in the harshest places in the world. Each of these 365 thought-provoking devotions will deepen your understanding of Christian persecution and provoke you to pray for our brothers and sisters with a new found depth.