from Day by Day with the Persecuted Church

In all your ways acknowledge him, and he will make your paths straight. (Proverbs 3:6)
Ali Sougou
More people became interested in the Gospel of Jesus Christ and accepted the Lord. They not only experienced many trials and hardships, but also the provision of the Lord in great and small matters. One such provision was experienced by an elderly Christian couple, travelling home one day when their car started to sway dangerously. It wobbled to a standstill and Brother A discovered that they had a puncture. They had no spare tire in their car - hardly anybody has on those islands - so what could they do? They found themselves on a deserted road in the middle of nowhere.
"Let's pray about it," Sister B said, "Our Father in heaven knows our problem. Let us ask Him for help."
Yes, their help came from the Lord (Psalm 121). Another Christian came along the same way and had a spare tire! (first miracle). But ... nobody had a jack. "Lord, we thank you for the tire; please send someone with a jack." After some time a truckload of men stopped next to them. "Can we help?" they asked. "We've got a puncture, there is a spare tire, but we don't have a jack." "No problem," the men said, "we'll fix it for you." More than ten men jumped out of the truck, hoisted the little car in the air with their bare hands while another man changed the tire (second miracle). A few minutes later the happy bunch of Comorean workers jumped back onto the truck, waved and were gone.
Were they Comoreans ... or were they angels? Sent by God?
Ali Sougou from the Comoros. This first Christian convert on this Muslim island came to know Jesus Christ in a special way. He writes about that experience. Edited with permission from the book In the Shade of the Moon published by Baruk, 1990.
Copyright [C] 1995 Open Doors International. Used by permission.
Click here to sign up for a free monthly newsletter from Open Doors about persecuted Christians.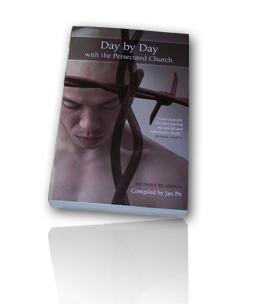 Day by Day with the Persecuted Church
compiled by Jan Pit with a forward by Brother Andrew (paperback, revised 2000)
Compelling wisdom from the pen of actual believers living amidst persecution, you'll be connected to the suffering, courage, and depth of life that exists in the harshest places in the world. Each of these 365 thought-provoking devotions will deepen your understanding of Christian persecution and provoke you to pray for our brothers and sisters with a new found depth.