from Day by Day with the Persecuted Church

Another angel, who had a golden censer, came and stood at the altar. He was given much incense to offer, with the prayers of all the saints, on the golden altar before the throne. (Revelation 8:3)
Open Doors Contact Person
He had been in prison in Siberia for many years.
Those were years of suffering, torture, brainwashing.
After his release we spoke to him and asked, "What was the secret of your victory whilst you were in prison for so long?"
He pulled out a little notebook from his pocket. "This is the secret" he said. "These are the people who prayed for me while I was in prison. They sent me postcards and I kept their names. You have no idea how we depended on getting those postcards. They encouraged us and the other prisoners."
God hears our prayers when we pray.
Prayers for those who suffer.
Prayers for our families.
Prayers for our own problems.
Never stop asking. One day all will be revealed.
The prayers of the saints are kept by God. Yours as well.
Copyright [C] 1995 Open Doors International. Used by permission.
Click here to sign up for a free monthly newsletter from Open Doors about persecuted Christians.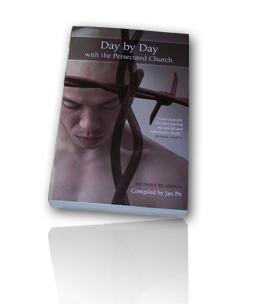 Day by Day with the Persecuted Church
compiled by Jan Pit with a forward by Brother Andrew (paperback, revised 2000)
Compelling wisdom from the pen of actual believers living amidst persecution, you'll be connected to the suffering, courage, and depth of life that exists in the harshest places in the world. Each of these 365 thought-provoking devotions will deepen your understanding of Christian persecution and provoke you to pray for our brothers and sisters with a new found depth.