from Day by Day with the Persecuted Church

The Lord gave and the Lord has taken away; may the name of the Lord be praised. (Job 1:21)
Constantin Caraman
When I was working as a doctor in the Romanian countryside, I once met an old man. He was walking in the middle of the road, crying. I stopped and asked if there was anything I could do for him. He said, "I had seven sons and all of them have been killed." I looked into the face of this man to whom life had little meaning anymore. Automatically, the question arises, "O Lord, why so much suffering?"
"I can't go on any more and I don't want to either," the man said. In moments like these, it is better to be silent. Then the only thing for a doctor to do is to entrust him to the care of our Great Healer and pray for peace and strength. I was thinking about Job. He would have understood and helped this man much better. But Job was not there. But He, who was tempted in every way, just as we are, He was there - Jesus Christ. He is able to sympathize with our weaknesses.
Job knew grief like no other. His reaction to suffering was not a fatalistic one. Fatalists say, "It just happens to you and there is nothing you can do about it." But Job sought comfort in the Lord in spite of his inner struggle and his questions. He had the kind of submission that overcame the ordeal.
My life is in God's hand. It is safe there, whatever happens.
Writer for the month - Constantin Caraman from Romania was in prison three times for his faith.
Copyright [C] 1995 Open Doors International. Used by permission.
Click here to sign up for a free monthly newsletter from Open Doors about persecuted Christians.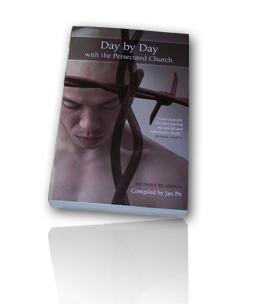 Day by Day with the Persecuted Church
compiled by Jan Pit with a forward by Brother Andrew (paperback, revised 2000)
Compelling wisdom from the pen of actual believers living amidst persecution, you'll be connected to the suffering, courage, and depth of life that exists in the harshest places in the world. Each of these 365 thought-provoking devotions will deepen your understanding of Christian persecution and provoke you to pray for our brothers and sisters with a new found depth.