from Day by Day with the Persecuted Church

Lord, teach us to pray. (Luke 11:1)
Gerhard Hamm
I am so grateful to my parents for having taught us to pray. And above all, for having been praying people themselves.
We saw the value and the power of prayer in our parents. Father was shot and killed for it and mother deported to Siberia, where she died. We, their children, have never considered this a tragic loss, but a spiritual victory.
Their prayers were taken up to heaven by angels and put into golden censers (Revelation 8:3, 4). And their prayers were heard. They had twenty children, ten of whom are dead now, and many of them died in Siberia. We, the remaining ten children, suffered much in Siberia, but God has been good and merciful to us. All ten have become servants of the Lord. In times of severe persecution, we saw how our parents found strength in the Lord, through prayer and faith. We want to follow in their footsteps and go on. Do our children see the power of prayer in us?
"Lord, teach us to pray."
Writer for the month - Gerhard Hamm from Russia spent many years in prisons and labor camps in Northern Siberia.
Copyright [C] 1995 Open Doors International. Used by permission.
Click here to sign up for a free monthly newsletter from Open Doors about persecuted Christians.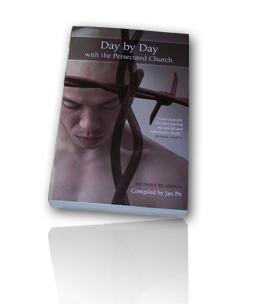 Day by Day with the Persecuted Church
compiled by Jan Pit with a forward by Brother Andrew (paperback, revised 2000)
Compelling wisdom from the pen of actual believers living amidst persecution, you'll be connected to the suffering, courage, and depth of life that exists in the harshest places in the world. Each of these 365 thought-provoking devotions will deepen your understanding of Christian persecution and provoke you to pray for our brothers and sisters with a new found depth.