from Day by Day with the Persecuted Church

Yet I am always with you; you hold me by my right hand. You guide me with your counsel, and afterward you will take me into glory. (Psalm 73:23-24)
Gerhard Hamm
It is not always easy to live close to the Lord, for the powers of evil are always attempting to disturb our relationship with God. But, thank God, Jesus is more powerful than Satan. People who know Christ may count on His protection when the devil is cunningly trying to tempt them.
I have often experienced this in Siberia. When I was still living in the polar region, where the temperature in winter was sometimes 56 degrees below zero, the KGB one day offered to get me out of the cold, on condition that I help them out in "a small matter." I was offered a good job in a prison camp with a nice, heated room from which I was able to listen in to the conversations of other Christian prisoners. All I had to do was pass on the contents of those conversations to the KGB. "We would only like to know what kind of things people talk about." It was a very tempting offer, away from the cold, no more forced labor. But the Lord was there to help me. I saw the viciousness of the plan. "Do you know what Judas did after his betrayal?" I asked. The man shook his head. "Judas committed suicide ... and I want to live."
The conversation was over. I did not get the warm room and the attractive job. I had to get back into the cold. But my heart was warm.
Satan always offers us a compromise, so be watchful. Christians who enter into a compromise are of no value to God or man. Only those who remain faithful to the Lord, anywhere and under any circumstance, are valuable.
Writer for the month - Gerhard Hamm from Russia spent many years in prisons and labor camps in Northern Siberia.
Copyright [C] 1995 Open Doors International. Used by permission.
Click here to sign up for a free monthly newsletter from Open Doors about persecuted Christians.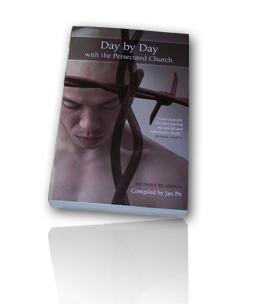 Day by Day with the Persecuted Church
compiled by Jan Pit with a forward by Brother Andrew (paperback, revised 2000)
Compelling wisdom from the pen of actual believers living amidst persecution, you'll be connected to the suffering, courage, and depth of life that exists in the harshest places in the world. Each of these 365 thought-provoking devotions will deepen your understanding of Christian persecution and provoke you to pray for our brothers and sisters with a new found depth.