from Day by Day with the Persecuted Church,

The people who surrounded David had no more fight left in them.
Did they lose a battle? Did their crops fail? We don't know.
They seem to have lost their faith in God and they criticize David who continues to trust in the Lord.
How does David react to this defeat and criticism? He prays.
David
Answer me when I call to you, O my righteous God. Give me relief from my distress; be merciful to me and hear my prayer.
How long, O men, will you turn my glory into shame? How long will you love delusions and seek false gods?
Know that the Lord has set apart the godly for himself; the Lord will hear when I call to him.
In your anger do not sin; when you are on your beds, search your hearts and be silent.
Offer right sacrifices and trust in the Lord.
Many are asking, "Who can show us any good?"
Let the light of your face shine upon us, O Lord.
You have filled my heart with greater joy than when their grain and new wine abound.
I will lie down and sleep in peace, for you alone,
O Lord, make me dwell in safety.
(Psalm 4)
Copyright [C] 1995 Open Doors International. Used by permission.
Click here to sign up for a free monthly newsletter from Open Doors about persecuted Christians.
---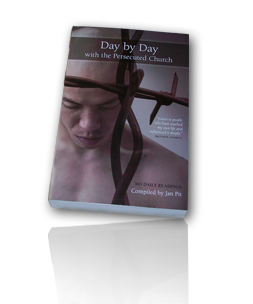 Day by Day with the Persecuted Church
compiled by Jan Pit with a forward by Brother Andrew (paperback, revised 2000)
Compelling wisdom from the pen of actual believers living amidst persecution, you'll be connected to the suffering, courage, and depth of life that exists in the harshest places in the world. Each of these 365 thought-provoking devotions will deepen your understanding of Christian persecution and provoke you to pray for our brothers and sisters with a new found depth.
To order your copy of this devotional, click