from Day by Day with the Persecuted Church

Therefore I tell you, whatever you ask in prayer, believe that you have received it and it will be yours.
Irina Ratushinskaya
We usually add the following words to our prayer, "Thy will be done, not mine."
It sounds very devout, but is it? When a prayer is not granted, was it because it was against God's will or because we did not really believe it would be heard?
There is however one prayer that is always in harmony with God's will. You all know it. Its first words are, "Our Father."
Let us consider the prayer that Christ gave to us for a moment. The Kingdom of God will indeed come on earth; His will be done on earth as it is in heaven. We will be given our daily bread and our sins will be forgiven! And we will do no more sin. The attacks of the devil will not be successful, for God will protect us.
Isn't this miracle greater than the boldest of our own wishes?
Today, presently - we can do it with God's help.
Are we afraid it will not come true after all? So what? We can ask the Lord to strengthen our faith in Him. He can do it. Now.
Writer for the month - Irina Ratushinskaya from Russia was imprisoned for seven years in a labor camp. She has written about her experiences in a moving book entitled Grey is the Colour of Hope published by Sceptre Books, 1989.
Copyright [C] 1995 Open Doors International. Used by permission.
Click here to sign up for a free monthly newsletter from Open Doors about persecuted Christians.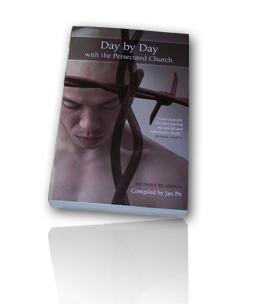 Day by Day with the Persecuted Church
compiled by Jan Pit with a forward by Brother Andrew (paperback, revised 2000)
Compelling wisdom from the pen of actual believers living amidst persecution, you'll be connected to the suffering, courage, and depth of life that exists in the harshest places in the world. Each of these 365 thought-provoking devotions will deepen your understanding of Christian persecution and provoke you to pray for our brothers and sisters with a new found depth.