from Day by Day with the Persecuted Church

I have much more to say to you, more than you can now bear. (John 16:12)
Irina Ratushinskaya
It is difficult for us to form an idea of the heavenly Kingdom. Our normal powers of imagination fall short, they are too limited.
But it is important to realize that it is real and awaiting us. Let us just try to imagine ourselves telling a human embryo what kind of world it will be born into. Let us assume that the embryo is really trying to understand us. How can we ever explain what sunlight is, or a family or a church?
If, however, on the basis of the fact that it isn't able to imagine the outside world, the unborn baby should decide not to be born ... it would die and never see the outside world. We are only the embryos of our future immortal souls. It is so difficult to picture the life that is to come, but it will come.
How wonderful it is that eternal life will be better than anything we could ever imagine now.
Writer for the month - Irina Ratushinskaya from Russia was imprisoned for seven years in a labor camp. She has written about her experiences in a moving book entitled Grey is the Colour of Hope published by Sceptre Books, 1989.
Copyright [C] 1995 Open Doors International. Used by permission.
Click here to sign up for a free monthly newsletter from Open Doors about persecuted Christians.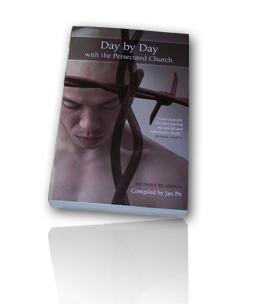 Day by Day with the Persecuted Church
compiled by Jan Pit with a forward by Brother Andrew (paperback, revised 2000)
Compelling wisdom from the pen of actual believers living amidst persecution, you'll be connected to the suffering, courage, and depth of life that exists in the harshest places in the world. Each of these 365 thought-provoking devotions will deepen your understanding of Christian persecution and provoke you to pray for our brothers and sisters with a new found depth.