from Day by Day with the Persecuted Church

By faith Abraham, when God tested him, offered Isaac as a sacrifice. (Hebrews 11:17)
Abraham
Temptation is Satan's way of getting us into his camp - away from God. A test is God's way of bringing us closer to Himself, away from Satan. Abraham knew the difference.
God must have had great confidence in Abraham, and Abraham in God. God's vote of confidence in Abraham not only concerned his obedience, but also his faith and love.
Obedience When the Lord commanded Abraham to offer his son, he responded immediately. He did not plead for time to consider the consequences. He did not argue with God. "Early the next morning he got up..." (Genesis 22:3).
Obedience without reservation.
Faith Isaac was the child of promise. How could God keep His promise and let Isaac die? Because Abraham knew: God is able. "He reasoned that God could raise the dead" (Hebrews 11:19). What faith. Abraham had never heard of anyone having been raised from the dead yet he believed: God is able.
Faith without doubt.
Love Who comes first? Isaac was the answer to God's promise, the child of his old age, the laughter of his life. His dearest possession on earth. Yet, God came first.
Love without limits.
Abraham passed the test. Have you?
If Abraham was to have received an award it would have contained this inscription, "Abraham, pioneer of faith - friend of God."
Copyright [C] 1995 Open Doors International. Used by permission.
Click here to sign up for a free monthly newsletter from Open Doors about persecuted Christians.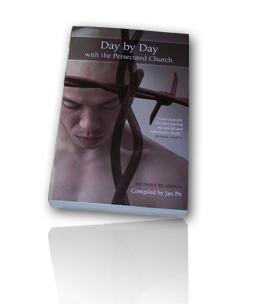 Day by Day with the Persecuted Church
compiled by Jan Pit with a forward by Brother Andrew (paperback, revised 2000)
Compelling wisdom from the pen of actual believers living amidst persecution, you'll be connected to the suffering, courage, and depth of life that exists in the harshest places in the world. Each of these 365 thought-provoking devotions will deepen your understanding of Christian persecution and provoke you to pray for our brothers and sisters with a new found depth.