from Day by Day with the Persecuted Church

You intended to harm me, but God intended it for good to accomplish what is now being done, the saving of many lives. (Genesis 50:20)
Joseph
The story of Joseph appeals to young and old alike. Joseph who went from pit to palace. Joseph who kept his conscience clean and his character pure. Who was faithful under the most difficult circumstances. The man who resisted temptation. Who was unspoiled by sudden prosperity. Joseph who proved that "prison walls do not make a prison." Who enjoyed the presence of God and waited for his deliverance from God.
The man who answered cruelty with love and hatred with goodwill. Joseph, the perfect type of Christ. An outstanding young man. While we learn from him in the coming days, we acknowledge that we may not have all his gifts, but realize that we can practice all his principles. We may never reach his greatness, but we can show forth his goodness. To friends and foes alike. Resulting in the saving of many lives. Quite a challenge.
Copyright [C] 1995 Open Doors International. Used by permission.
Click here to sign up for a free monthly newsletter from Open Doors about persecuted Christians.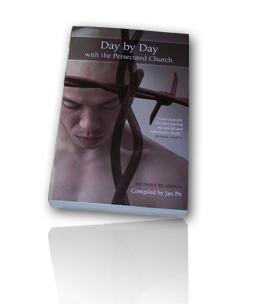 Day by Day with the Persecuted Church
compiled by Jan Pit with a forward by Brother Andrew (paperback, revised 2000)
Compelling wisdom from the pen of actual believers living amidst persecution, you'll be connected to the suffering, courage, and depth of life that exists in the harshest places in the world. Each of these 365 thought-provoking devotions will deepen your understanding of Christian persecution and provoke you to pray for our brothers and sisters with a new found depth.