from Day by Day with the Persecuted Church

He regarded disgrace for the sake of Christ as of greater value than the treasures of Egypt, because he was looking ahead to his reward. (Hebrews 11:26)
Open Doors Contact Person
She is living in China, a young woman of merely thirty years of age. Her family moved to Canada. They were allowed to emigrate because of the many problems they had encountered in China.
Ding-Ding, that is her name, chose not to go with them but to remain in China. A hard decision to make for Ding-Ding was also choosing to suffer hardship in China. Yet she stayed. Her decision to remain was not taken overnight. She said, "There is so much work to be done here. The fields are ripe for harvest. God has called me to take the Gospel to the Chinese. The future is uncertain, but the Lord is with me. And His return is imminent. That is why I cannot leave. My people need Christ."
It is written about Moses that he regarded disgrace for the sake of Christ of greater value than the treasures of Egypt. The same can be said of Ding-Ding. And about many, many others like her. Are you one of those?
Copyright [C] 1995 Open Doors International. Used by permission.
Click here to sign up for a free monthly newsletter from Open Doors about persecuted Christians.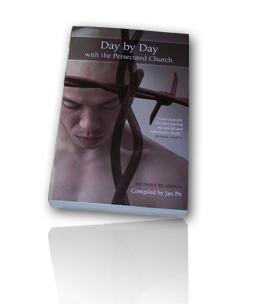 Day by Day with the Persecuted Church
compiled by Jan Pit with a forward by Brother Andrew (paperback, revised 2000)
Compelling wisdom from the pen of actual believers living amidst persecution, you'll be connected to the suffering, courage, and depth of life that exists in the harshest places in the world. Each of these 365 thought-provoking devotions will deepen your understanding of Christian persecution and provoke you to pray for our brothers and sisters with a new found depth.