from Day by Day with the Persecuted Church

Simon, Simon, Satan has asked to sift you as wheat. But I have prayed for you, Simon, that your faith may not fail. (Luke 22:31, 32)
Pastor Samuel Lamb
During the sixteenth year of my imprisonment something dramatic happened. All the prisoners - Christian and non-Christians - were called together to have a session of so-called self-criticism. Some Buddhists were asked to criticize Buddhism - others were asked to criticize Confucius. I was asked to criticize Christ.
I quickly prayed to God. "Sir, I cannot criticize or deny my God. He is the way, the truth and the life."
"Criticize" the man shouted, "it will benefit you." I thought: Will I be released after sixteen years instead of after twenty years? It would save me four years of hard labor. But then I thought: If I criticize Christ to come out of jail four years early, the sixteen years in jail would all have been in vain. I was trembling. Freedom so near - temptation so real.
Then the Scripture I mentioned came to my mind, "Be alert, your enemy the devil prowls around like a roaring lion looking for someone to devour. Resist him, standing firm in the faith..." (1 Peter 5:8). I also thought of Peter, who boasted in himself ... and fell. "O Lord, keep my faith" I cried. If Peter denied Him three times, I could easily deny Him thirty times, three hundred times. Thank God, He heard my prayer. In those twenty years in jail I have not denied the Lord once, not because I was so strong - but because the Lord protected me.
Praise be to Him and to Him alone. "I have prayed for you." Thank you Jesus.
Writer for the month - Samuel Lamb from China. This noted pastor was in prison for over 20 years. He is still under great pressure from the authorities. Hundreds attend his so-called House Church, especially young people. His story is available in a book Bold as a Lamb published by Zondervan, 1991.
Copyright [C] 1995 Open Doors International. Used by permission.
Click here to sign up for a free monthly newsletter from Open Doors about persecuted Christians.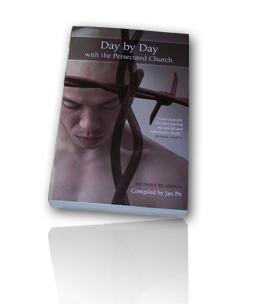 Day by Day with the Persecuted Church
compiled by Jan Pit with a forward by Brother Andrew (paperback, revised 2000)
Compelling wisdom from the pen of actual believers living amidst persecution, you'll be connected to the suffering, courage, and depth of life that exists in the harshest places in the world. Each of these 365 thought-provoking devotions will deepen your understanding of Christian persecution and provoke you to pray for our brothers and sisters with a new found depth.