from Day by Day with the Persecuted Church

Therefore, my dear brothers, stand firm. Let nothing move you. (1 Corinthians 15:58)
Pastor Samuel Lamb
The Lord's blessings are different to different people. Some people suffer physically or through illness, the only important thing is, how do we react? Some people suffer spiritually, because of their faith in Jesus Christ. Again, the only importance is, how do we react?
There is no need for us to chase after miracles, but if we need a miracle, God specializes in miracles. The greatest miracle God can do in our lives is to give us peace, whatever the circumstances may be. A Chinese proverb says, "A crisis reveals our character." How do we react in terms of crisis? Do we get confused, angry, disappointed - in God and men? Or do we trust God - who is still in control? Our spiritual character must be built before we enter a crisis so that in the midst of the trouble we can draw from our spiritual knowledge and experience.
Writer for the month - Samuel Lamb from China. This noted pastor was in prison for over 20 years. He is still under great pressure from the authorities. Hundreds attend his so-called House Church, especially young people. His story is available in a book Bold as a Lamb published by Zondervan, 1991.
Copyright [C] 1995 Open Doors International. Used by permission.
Click here to sign up for a free monthly newsletter from Open Doors about persecuted Christians.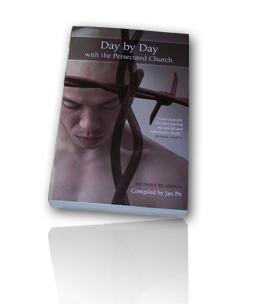 Day by Day with the Persecuted Church
compiled by Jan Pit with a forward by Brother Andrew (paperback, revised 2000)
Compelling wisdom from the pen of actual believers living amidst persecution, you'll be connected to the suffering, courage, and depth of life that exists in the harshest places in the world. Each of these 365 thought-provoking devotions will deepen your understanding of Christian persecution and provoke you to pray for our brothers and sisters with a new found depth.